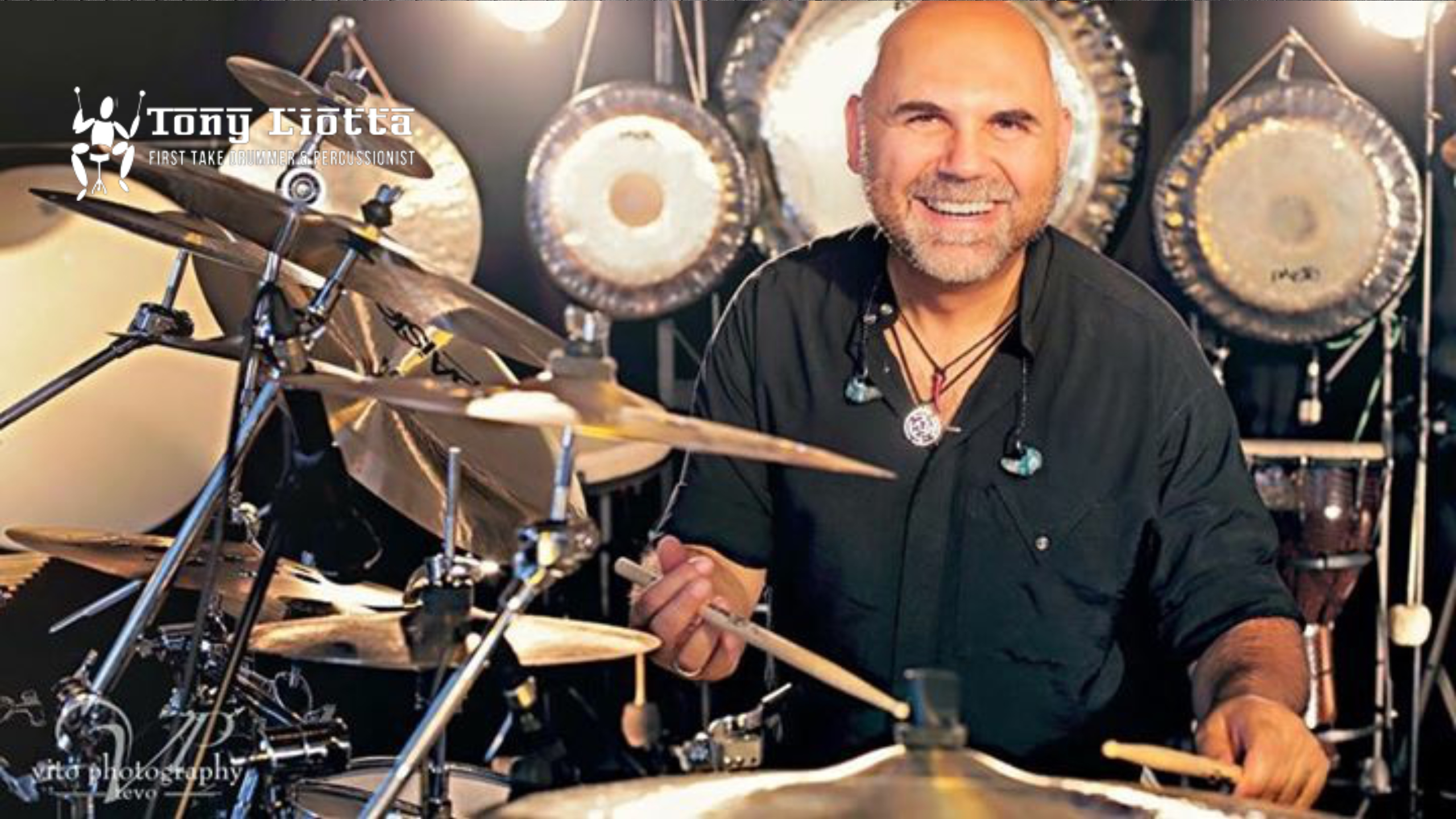 Independent Drums & Percussion
Live/Studio | Composer | Producer | Author | Teacher | Vocal-Coach | Band-Coach | Music Director
Tony Liotta belongs to the world´s most famous drummers in the music business. He´s the drummer with the Italian name and the American groove. Liotta has a distinctive style and so he has inspired generation of drummers.
Tony Liotta is a legend in the studios as "the first take drummer". His own album "Colours of Life" was called "a time document of the art of drumming" [Sticks Magazine]. Other critics compare him with Miles Davis and Santana or as the German answer to Billy Cobham. In 2015 his album "Chief of Groove" was released.
Colours of Tony´s life
Tony grew up in New York and New Orleans. He started to play the drums when he was three years old. He learned his craft by the forefather of all drummers – Buddy Rich. You could say that Tony´s career began where others want to go: the first studio job was an album production with Young Generation in the age of ten. He played at Madison Square Garden and Radio City Hall.  As the teenage drummer crossed the big ocean he had already played with the bests.
Up to now Tony has worked with plenty international artists and producers throughout the world. The list is very long, here are just some of them: Rocky Roberts, Bernhard Purdie,  Kenny Aronoff, Zoro, Steve Smith, Michael Landau, Steve Lukather, David Garflield, Omar Hakim, Akira Jimbo, Felix Sabal Lecco, John Blackwell, Emiliano Turi, Pierre Desfray, Paco Sery, Carmine Appice, Mike Campbell, Cindy Blackman…
Next to own albums, lot of projects, festival-gigs and few TV performances, Liotta also produces for Warner Brothers in Italy.
But that´s not enough! Tony Liotta offers workshops for drums and percussion world-wide. He teaches in German, English and Italian. Tony also released the second DVD "Drum Energy"  a standard rule not only for drummers but for the whole music business.
The talented drummer was one of the founders and the head of the drum and percussion division of the "Glen Buschmann Jazz -Academy" and head of drum division at Jam-Academy in Cologne. He gives lessons in universities and trains teachers.
At the international Music Academy (MMI) Tony Liotta has been the head of the Danish & German branch since 2017.
His own "Tony Liotta Drumschool"  exists more than thirteen years and considers being one of the best in Europe. The schools are located in Dortmund and Bochum (Germany) and for some time also in Milan.
Further projects
Liotta´s roots are founded in Jazz, but he has a natural gift of playing any kind of music. So his projects are very differently. World Music, Jazz, Blues, Pop, Rock,   R'N'B, Fusion, Latin…or for example Techno.
In 2008 he released a techno project for the "Loveparade" the biggest techno event in Germany.  With his "Song of Love" Tony rocked the audience as "Drummaniac".
The debut album of "chaos venture" (Tony Liotta drums) was released in 2015. Critics talked about a great band und fantastic music. For more than one year the album was the most successful in Poland.
Liotta also got one of the best Pink Floyd Tribute Bands in Europe.
Tony Liotta is founder and organizer of the successful live-event "Groove Attack"  which is lasting meanwhile ten years. The show with top-class musicians could be seen in Germany, Italy, France, Austria and Denmark.
Groovemaster XXL is the name of the rock fusion with Tony Liotta, Enrico Santacatterina and his brother Carlo Santacatterina. XXL is funky, groovy, powerful and anything but boring!
Unbeatable view
In 2019 his new album was released, which was produced in the studio of the Tony Liotta Drumschool. Producer is the legend Siggi Bemm and the album will feature many successful American and Italian artists.
Liotta was also on tour in 2019 with the international band project "Tony Liotta -Pink Floyd Project". "TL-PFP" is a formation of professional musicians who live out their love and passion for the legendary Pink Floyd Band in spectacular live concerts.