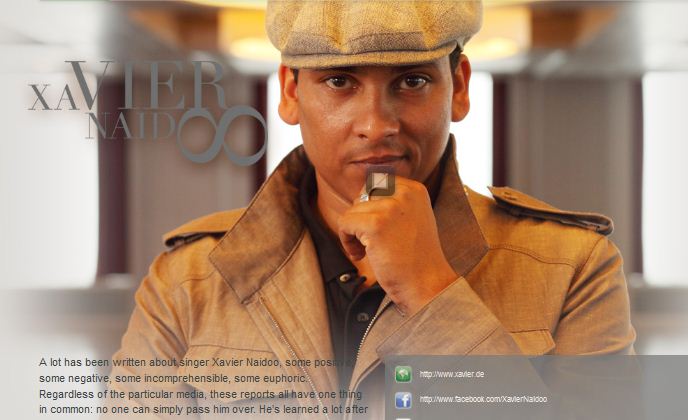 A few months ago Xavier Naidoo had been part of the jury of "The voice of Germany".
But of course he is famous and successful because of his songs and his great voice!
Due to his great carrier and his popularity he is also "part" of the virtual world.
So we´ve made detailed inquiries:
Xavier´s "Head of Online"  and one person for the technical backup are those who are responsible for the representation of Xavier Naidoo on the following social media platforms and internet-sites:
Facebook: Since 02/2010
The biggest social network has some advantages to Xavier and his team. So it's easy to handle and it has an amazing viral effect which especially is generated by over 400.000 fans.
For the team Facebook stands for engagement, entertainment and quantitative plus qualitative information.
Youtube: Since 05/2008
YouTube is the biggest video platform and so they thought that it´s a must to publish the music videos and promotion trailers there.
MyVideo: Since 10/2009
They also use this popular video portal.
Website- Forum: Since approx. 2001
From fans for fans! Like-minded people can exchange experiences and views.
The own website is very important to the artist! Xavier and its team say that they just publish qualitative information on the website but anyway there has to be all the relevant content, because people are used to have websites and so they expect it.
They told us: You could call the website the "online –mother ship"
An overview of what social media means to them:
Direct contact to the fans as well as fun with communication and interaction
Comments, constructive proposals and wishes are welcome
The promotion of videos, albums or a tour
The easy way to transmit and share content
A community for the fans
We are very thankful for the answers and as usual at the end of a new article of our serial "Endorsers & Social Media" we post a link to the artist´s profile on our website: https://www.k-m.de/brand/en/endorser/xavier-naidoo/
---