Martin König honored with "Lifetime Achievement Award"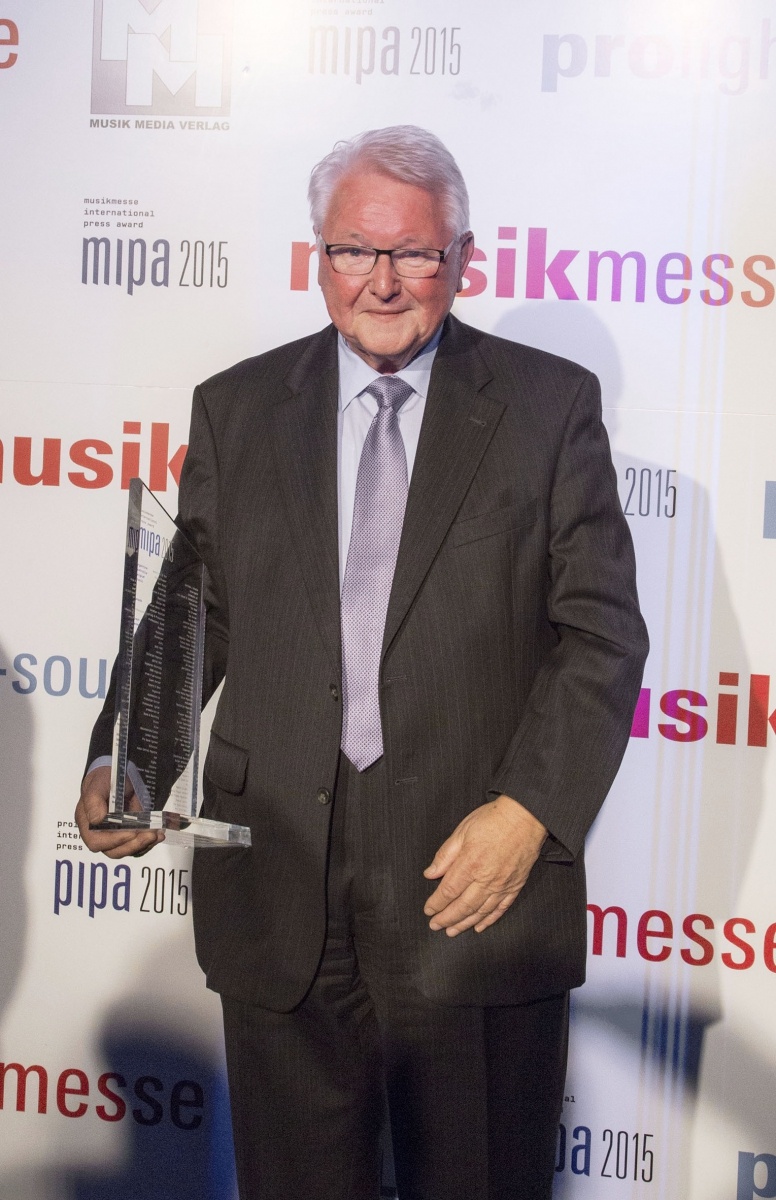 16 April 2015: At the Musikmesse Frankfurt, Martin König from the König & Meyer company was honored with the "Lifetime Achievement Award" for his life's work. This award from the Musikmesse International Press Award (MIPA) is the greatest honor within the MIPA celebratory event which was held in the Europa Hall at the exhibition center.
In his impressive voice in English, RTL announcer Gregor König had already named many award-winning products from all areas of the musical instruments segment. He then held an honorific speech for Wertheim entrepreneur Martin König, taking listeners through the many different stages in the life of the man who shaped his company, König & Meyer, for decades, and made it what it is today: a German SME that has rightfully taken its hard-fought place among the many renowned international guitar, keyboard and amplifier brands.
In the 1950s, Martin König joined his father's company, which would grow to become an international brand under his leadership. Today, over 1,500 different stands with the tiny K&M logo are sold in more than 80 countries across the globe. It is impossible to imagine the stages of the world without the music stands, microphone stands, keyboard stands, speaker stands and instrument stands from Wertheim. The most famous among them, the 210/2 microphone stand, has sold by the millions, but it is just one of many products Martin König introduced with dedication and commitment.
Against the backdrop of black-and-white photos from the past, announcer Gregor König described the initial founding of the company, its rapid growth in the sixties and seventies, and the very latest innovations. He also mentioned the company's exceptional corporate culture and trips organized for employees to mark specific occasions, all the results of an unusual leadership style. A company trip with 190 employees to the USA was included as one particularly noteworthy example. At the close of the honorific speech, the award winner took the stage to receive his "Lifetime Achievement Award", clearly moved by a standing ovation from the audience.
79-year-old Martin König opened his brief acceptance speech to the international music industry audience in English, before jokingly noting "I speak English like Lothar Mathäus" and switching to German. He expressed gratitude for the great honor shown his life's work and emphasized that it would not have been possible without the unwavering support of his family. It gave him a great sense of pride to watch his daughter, Gabriela König, as she has successfully continued to lead the company since 2005. Martin König ended his speech by noting with a wink that he was speaking from behind a K&M stand and thanked the event's organizers for their support.
---