Timeless and elegant: new König & Meyer products in white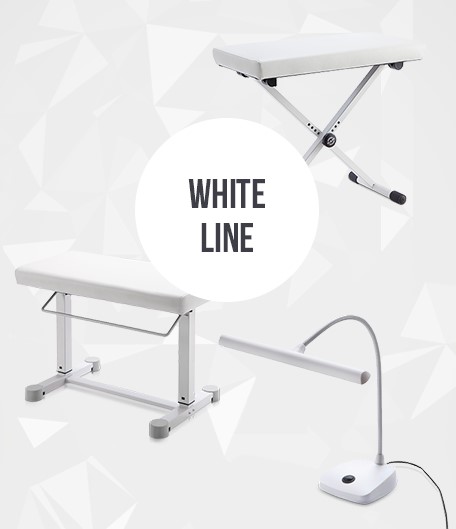 White is the new black, simple and still elegant. And the new keyboard bench 14077, the LED piano lamp 12297, and the 14080 »Uplift« piano bench all demonstrate it.
The new keyboard bench 14077 is a wide, extremely stable bench with a large, high-quality, cushioned seat upholstered with pure white imitation leather.
Height can be adjusted continuously from 405 to 605 mm and guarantees an absolutely secure hold. The keyboard bench can easily be folded up into a flat, handy package.
The 12297 LED piano lamp is stunning in a new white design. Its LED technology guarantees bright light (12 LEDs, 2500 Lux), long life, and a low energy consumption. A long, flexible goose neck (415 mm in length) allows the light to be put into the optimum position every time. The heavy base ensures stable positioning, and the power supply is included.
The popular 14080 »Uplift« piano bench is now also available in pure white. »Uplift« is a further development in the area of piano benches and offers comfort, pure and simple.
Thanks to built-in pneumatic springs, the height can be adjusted extremely conveniently in the seated position. Your preferred sitting position can be found in no time at all with the easy-to-use adjustment handle. The compact steel construction and large round floor protectors make this attractively designed bench extremely stable. The outstanding sitting comfort and the tough, pure white skai leather upholstery, provides everything you need for pleasant, relaxed playing.
*New*
In 2017 the popular table-style keyboard »Omega« (18810) stand got the white design. Its compact steel tubing construction and large round floor protectors make this attractive keyboard stand significantly more stable. Two sided spring-loaded locking screws make precision height adjustment easy. The support arms can be adjusted to suit the size of the keyboard. When folded, the table is impressively flat.
And the »Omega« keyboard table is predestined to be equipped with additional equipment.
These new items complement the growing range of white products:
100/1 Music stand
12297 LED piano lamp
14077 Keyboard bench
14080 Piano bench »Uplift«
16280 Guitar wall mount
18810 Table-style keyboard stand »Omega«
18813 Stacker
18993 Keyboard stand »Rick 20«
21337 Distance rod
214/6 Speaker stand
24110 Speaker wall mount
24161 Universal speaker wall mount
24180 Speaker wall mount
24465 Speaker wall mount
24471 Speaker wall mount
24481 Speaker wall mount
24496 Speaker ceiling mount
260/1 Microphone stand
26735 Speaker stand
13710 Piano bench – wooden-frame
13711 Piano bench – wooden-frame
13824 Seat cushion – imitation leather
---