Products for health protection– Made in Germany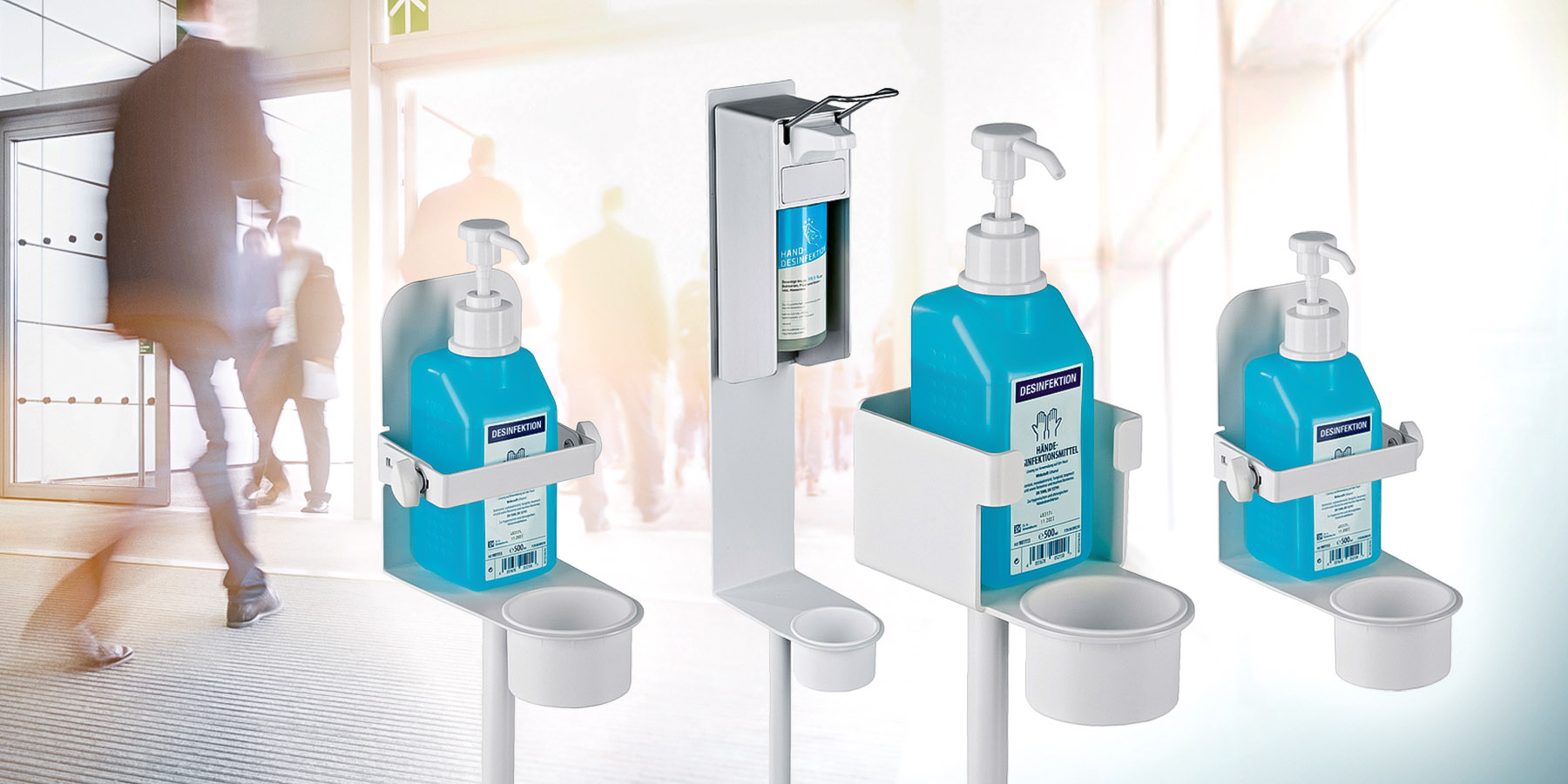 Regular and thorough hand hygiene is essential to fight viral infections such as the current Covid-19 coronavirus disease and, of course, pathogens in general. Especially in highly frequented areas and places where many people come together, germs can be transmitted quickly. Disinfecting the hands is vital to protect yourself and others from infections. However, facilities for hand disinfection must also be available.
With the mobile disinfectant stands, disinfectant holders and other equipment from König & Meyer you can protect your customers, employees and visitors safely and sustainably from germs. We offer you different models, which are ideal for use in commercial premises with high visitor frequency, such as hospitals, doctors' surgeries, retail shops, hotels, restaurants, schools, event locations or business premises for installation in entrance and waiting areas.
The disinfectant stands 80340, 80310 and 80315 and the disinfectant wall holder 80330 are in neutral white and suitable for the most common disinfectant bottles. The 80370 holder is also available in black and can be used as a table stand or wall mount.
For Euro dispensers we offer the disinfectant stand 80320 in white, the disinfectant column stand 80350 in black and the table stand 80360 in black or white in our range.
In addition, disinfectant bottles can be mounted directly on the stands for the Euro dispensers thanks to the 80396 holder.
The versatile tray 80380 can be mounted on our disinfectant stands or generally to tubes up to a diameter of 30 mm which can be used in many ways for facial or cleansing tissue papers, face masks or other hygiene products.
You can attach useful information for your visitors to the poster display stand 80395 as well as to the information board 80390. The board can be mounted easily on the disinfectant stand 80320 and the disinfectant column stand 80350.
All products are made in Germany. On request, the models can also be manufactured in other individual dimensions.
---