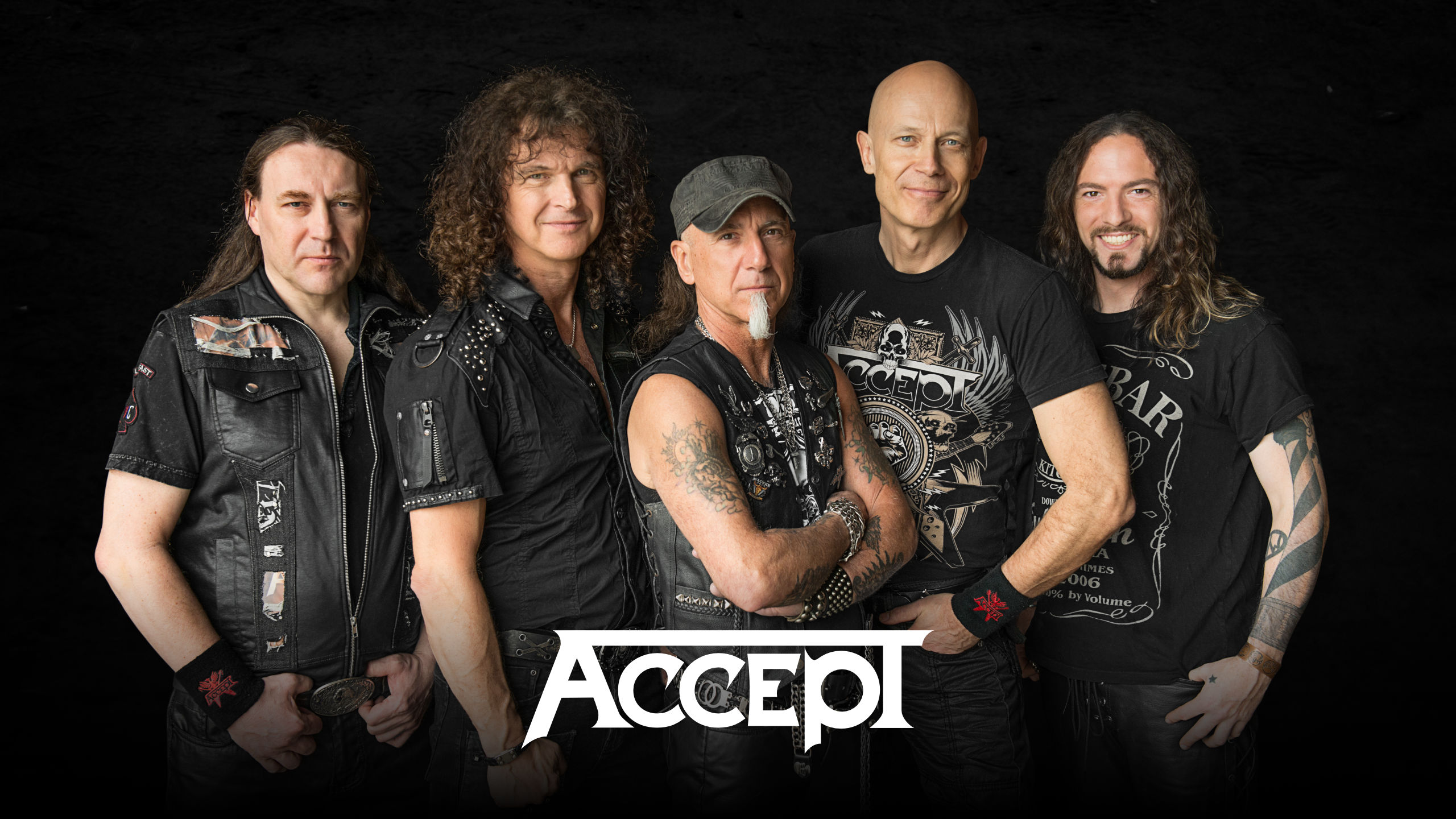 Accept is a German heavy-metal band formed about 40 years ago in Solingen. Already in the 80´s the band had become internationally successful. Like the band Scorpions they belonged to the best German bands of the rock scene and so Accept played an important role in the development of speed metal. Accept – a pioneer for a lot of following bands.
So up to now – what has happened?
In short, Accept has sold over 17 million albums worldwide.
More than 14 studio albums, even more live albums and compilations, lots of Singles and EPs as well as concerts, tours, prices…
Also in such a long band history the members of the band changed. Currently Accept assembled Mark Tornillo (vocals, since 2009), Wolf Hoffmann (guitar, since 1976), Uwe Lulis (guitar, since 2015), Martin Motnik (bass since 2019), Christopher Williams (drums, since 2015).
Blood Of The Nation Comeback
After a break Accept celebrated a comeback in 2010. Their comeback album BLOOD OF THE NATION was released in August and conquered the charts in all significant international markets. In addition, it became the most successful chart album in the band's history. Accept got more than 50 "Album Of The Year" Awards for BLOOD OF THE NATION from prestigious international media outlets and the crowing title of "Heavy Album Of The Century" from the global TV hit show "That Metal Show". Whatever – Accept were still not content to rely on their past.
Barely 20 months later – following a worldwide "180-show-marathon" – Accept released their next album, STALINGRAD, which arrived on the charts in similar, high regions as BLOOD OF THE NATIONS. For the first time ever, Accept ruled the official U.S. Billboard charts. Within the European continent, STALINGRAD established itself in the top 15 albums of all releases. Accept have indeed become one the most important rock acts on the planet.
Heavy touring
To the surprise of all heavy metal fans, in 2012 Accept launched a musical assault on the United States. After it Accept had rarely time to relax because in October their "European Tour Part 2: Stalingrad" started.
And the band cannot get enough. In 2013 you could see them on plenty festivals and their South America Tour. In 2014 the new album "Blind Rage" was released. The album ranked #1 in the German charts (for the first time ever!). Nonetheless in December 2014 Accept pronounced: "We are parting as friends" – Herman Frank & Stefan Schwarzmann left the band.
But the Blind Rage World Tour continued in 2015 and the band had "another year of heavy touring!". In 2016 you could see Accept on their Blind Rage Tour part 5! In 2017 their successful show was released as DVD.
Rise of chaos & To Mean To Die
"Rise of chaos" was relased in 2017 and charted worldwide. The European Tour 2017-2018 succeeded.
The new album "Too Mean To Die" was released on January 29th 2021. It entered the German charts at number 2 and stayed in the charts for 5 weeks.
Wolf Hoffmann stated regarding the album title:
"We wanted to approach the Corona situation with a twist. ACCEPT are the "Metal Soldiers" – we march on and on. We are "too mean to die".
To shorten the waiting time for the complete album, the band released a very special treat on Jan 15th: their third single "Zombie Apocalypse".
The single contains a special hint about a widespread disease of our time – and rest assured it's not Corona…
So please listen to it below and enjoy "hard-hitting melodies – a 5-minute classic ACCEPT treat: dynamic, unshakeable, mega loud."