Colour me in: The red »Spider Pro« on tour with Rea Garvey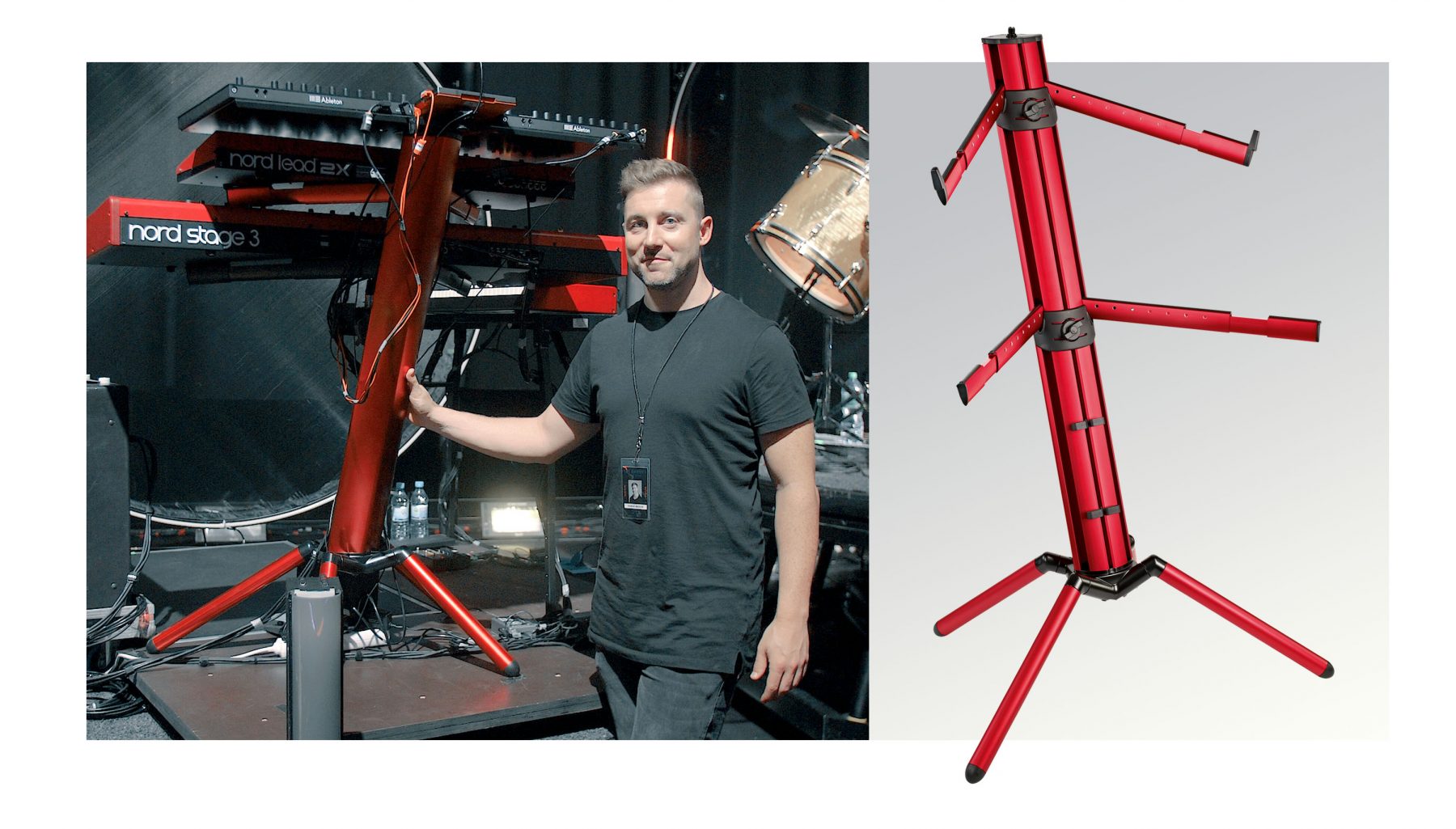 Rea Garvey is a great artist and our endorsement partner. On his current tour he shares the stage with our »Spider Pro« –  the new »Spider Pro« in a bright red look. The special edition in red is really an eye-catcher in the stage setup. That´s also important to Rea´s keyboarder Christian Besch. He knows: " The look is elementary."
The look is elementary
For years the stable »Spider Pro« with its extraordinary design and great expansion options has been the benchmark for keyboard players. And now the stand is not only available in silver and black but also in red! And this bright red special edition hit the nerve of touring musicians because optical stage stimuli are almost as important in the live business as functionality. This is also confirmed by Christian Besch who is currently touring with superstar Rea Garvey in the biggest German venues. And a great look also means "that the keyboarder is not imprisoned by his equipment and that cables can be laid cleanly". So the Rea Garvey side- and Spiderman likes live a "clean setup" which allows him a "direct contact to the audience". The »Spider Pro« meets all those criteria.
Moreover in the run-up to the tour, Besch tested the product´s functions and he was immediately convinced of the keyboard stand:
"I like the high functionality, the low weight, the simple and uncomplicated construction and the robustness. The option of being able to adjust the height of the individual arms as required is also a great advantage. Together with the optional attachments, the »Spider Pro« is simply perfect for keyboard players who, like me, want to play standing up".
When dreams come true
Our compact keyboard stand, which weighs only 11 kilograms despite its many functions, is the result of a tightly knit dialogue with professional musicians. The wishes of the professionals were incorporated into the development of the »Spider Pro«.
The music equipment especially must meet the challenges of the everyday life on tour. Reliability and robustness are as important as handling comfort and the possibility of individually adapted extensions. Considering this, the »Spider Pro« is the ultimate tool for live and studio use.
Keyboard players also love the feature to expand the »Spider Pro« by an additional third pair of support arms. The tilted column offers a more comfortable playing and a better view of the lower keyboard. Maximum legroom for the musician and enough space for pedals are of course included in the »Spider Pro«.
All features:
– 3/8″ or 5/8″ threaded connector for microphone boom
– High stability thanks to aluminium manufacturing
– Four feet guarantee optimum stability
– Two support levels
– Two extendable and height-adjustable support arms each per level
– Upper support arms are inclined by 15 degrees
– Tilted position of the stand for a comfortable posture during playing
– Legroom and space for pedals
– Extension possibilities through attachments
– Stand can be folded together for transport
– Available in black, silver and as special edition in red
– Dimensions
height: 1310 mm;
support depth: 300-475 mm;
support width: 670-940 mm
– weight: 11,34 kg
---