Musikmesse Frankfurt from March 12 – 15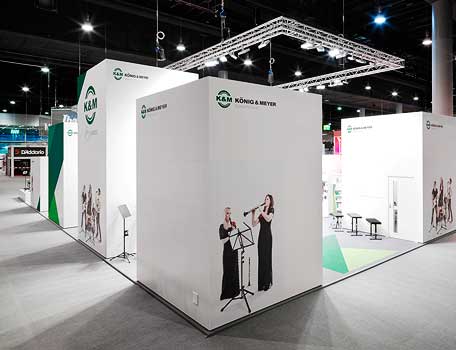 König & Meyer presents its new 2014 products
…and moreover this year we celebrate the 65th anniversary of König & Meyer! So we absolutely look forward to meeting you in Frankfurt! Come visit us at the upcoming Musikmesse/ Prolight + Sound and experience almost 30 new music, studio and multi-media products, all featuring an innovative construction and quality design, at our booths in hall 3.0 (C39) and hall 8.0 (A67).
Our anniversary musical highlights:
The alternative rock band "Flash Forward" will rock the Agora Stage two times:
– On Wednesday, March 12 from 12:30 to 1:00 pm
– On Thursday, March 13 from 5:00 to 5:30 pm
As usual our annual autograph session take place on Saturday at 2 pm at our main booth C39 in hall 3.0. We are glad to present Wolf Hoffmann, Accept´s lead guitarist and one of the songwriters.
König & Meyer booths:
Musikmesse hall 3.0 C 39, Prolight + Sound hall 8.0 A67
Click "Exhibition grounds" for an interactive map of the trade show grounds and halls.
Musikmesse and Prolight + Sound opening hours:
Wednesday through Saturday from 9:00 am to 6:00 pm
All public trade show visitors are invited to visit the Musikmesse/ Prolight + Sound on Friday starting at 2pm and on Saturday.
We look forward to seeing you at our booths and hope you enjoy a successful and inspiring trade show visit to Frankfurt.
---