Safety & hygiene
Sanitizer dispenser and various hygiene products from König & Meyer – Made in Germany
The risk of transmission of an infectious disease is particularly high in places where many people meet such as offices, event locations, restaurants, hotels and schools. To prevent viral infections, one thing above all is essential: thorough and regular hand hygiene. Safe and careful disinfection plays a decisive role in protecting oneself and others from infection. To ensure that hand disinfection can be done regularly, it is important that enough sanitizer dispensers are available on site. König und Meyer offers different and flexible solutions, as stands or column stands, for the table or as a wall holder as well as information boards for customers and guests.
All sanitizer dispensers are produced in Germany with high-quality materials and are available from stock. If you are interested in a partnership as a dealer, please contact us.
Disinfectant dispensershow all
---
Disinfectant dispenser columnshow all
---
Disinfectant dispenser with sensorshow all
---
Disinfectant dispenser tableshow all
---
---
The right protection in the office
In order to protect employees, partners and customers from viruses and germs, safe hand hygiene is an essential part of every hygiene concept. Especially in highly frequented areas such as shared offices and meeting rooms it is important to offer reliable and high-quality products for hand disinfection that fit perfectly into the office environment.
Sanitizer dispenser for the gastronomy
No matter whether food is offered for take-away or the meal is consumed at a reasonable distance in the restaurant: A suitable hygiene concept always includes possibilities for hand disinfection. The disinfectant stands and holders should convince by their design, high quality and simple functionality. This makes our sanitizer dispensers the ideal long-term solution for places where hygiene is essential, but design is not to be compromised.
Become a reseller
You are interested in selling our products as a reseller. Then please contact us regarding general conditions and terms. We are looking forward to your inquiry.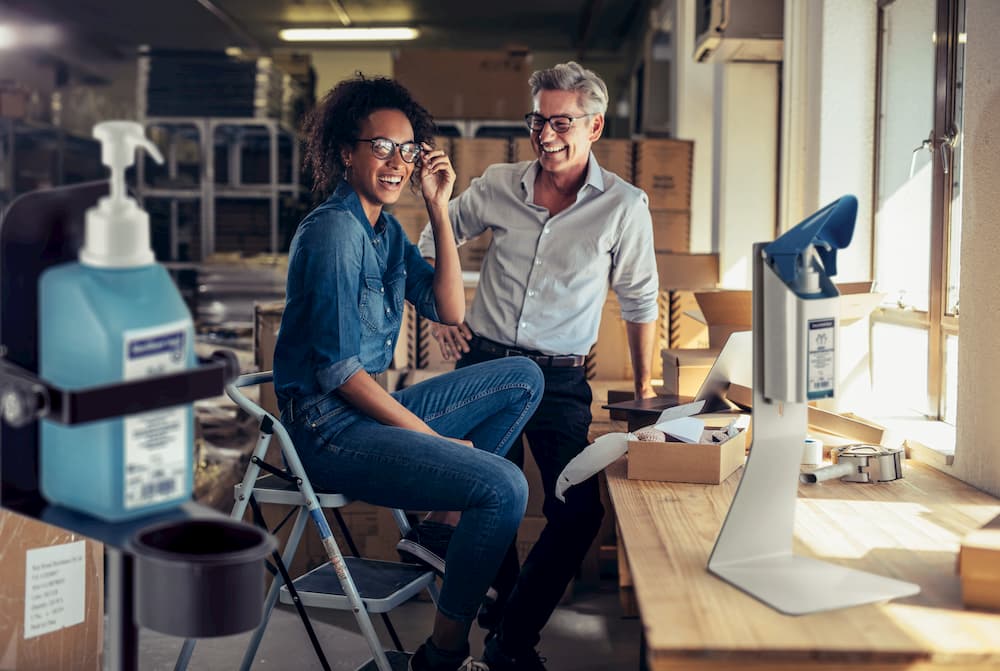 Dispenser for disinfectant - stands, for the table or for the wall
Our disinfectant stands with the product numbers 80340, 80310 and 80315 are, just like the disinfectant wall holder 80330, perfectly suitable for the most common sanitizer bottles.
The disinfectant holder 80370 can be used both as a table stand and wall holder. Sanitizer dispensers can be mounted on the disinfectant stand 80320, the disinfectant column stand 80350 and the table stand 80360. A complete set consisting of stand including dispenser is available for models 80328 and 80358. Products 80329 and 80359 include an automatic touchless sanitizer dispenser.
In addition, sanitizer bottles can be easily attached directly to the stands for Euro dispensers using the 80396 disinfectant holder.
The 80380 tray in white can be used in various ways for cleansing tissue papers, face masks or other hygiene products. The tray can be screwed to stands and tubes up to 30 mm.
To clearly communicate important information to your visitors, the poster display stand 80395 and the information board 80390 can be used. The information board can be mounted on both the 80320 disinfectant stand and the 80350 disinfectant column stand.
×
Dealer inquiry for safety & hygiene products
You are a reseller and would like to include our sanitizer stands in your product range? Please fill out the following contact form and send us a non-binding inquiry. A sales representative will contact you immediately to provide you with an individual offer.