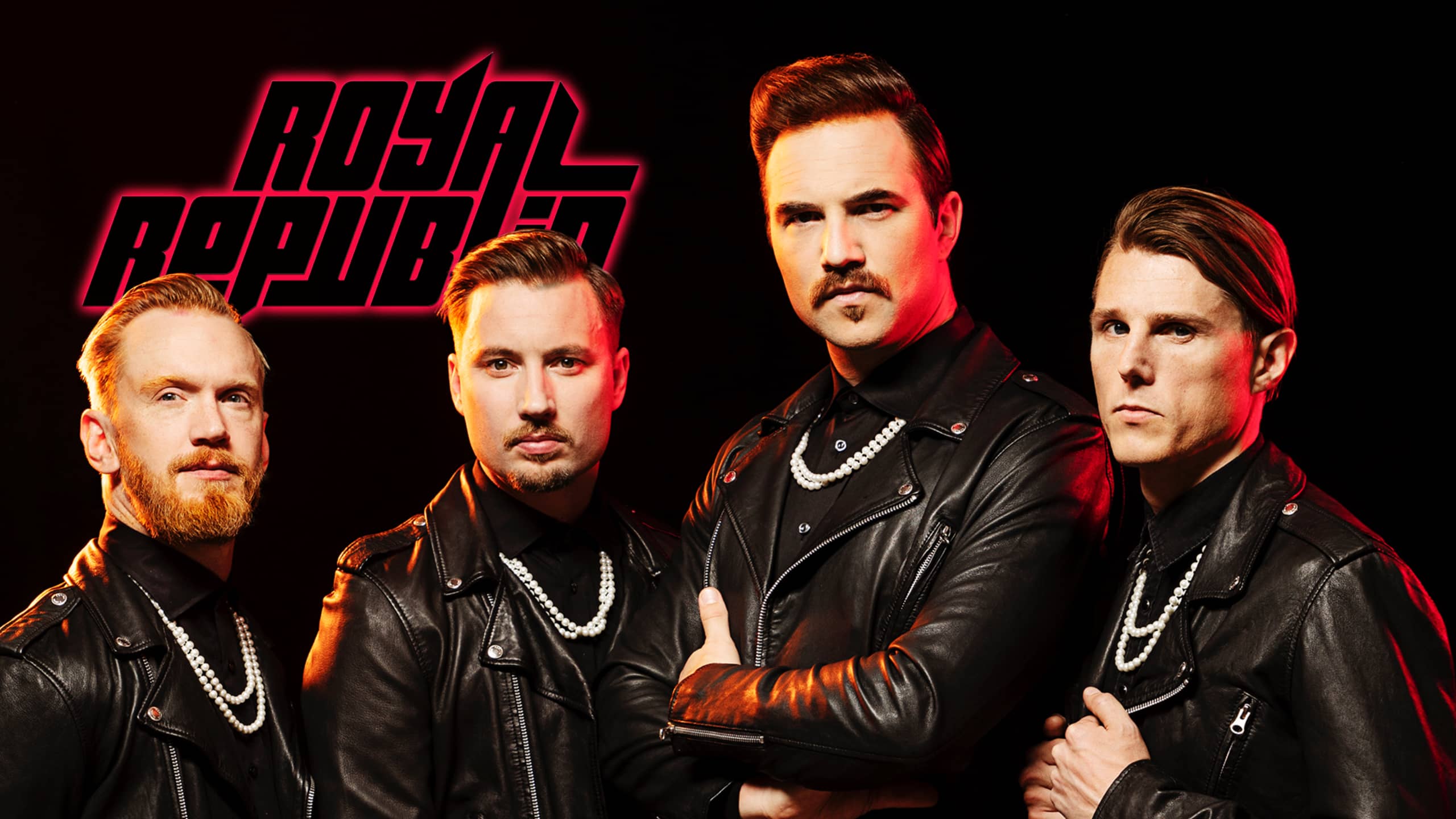 Royal Republic is a Swedish rock band founded by the musicians Adam Grahn (vocals & guitar), Hannes Irengård (guitar), Jonas Almén (bass) and Per Andreasson (drums) in 2007, when the four were studying at the Malmö Academy of Music.
The debut album We Are the Royal was released in 2010 and immediately made a musical breakthrough in Sweden. The first three single releases (All Because of You, Underwear and Tommy-Gun) all reached number 1 on the "Bandit Rock's Most Wanted List". The song Tommy-Gun also made it to the top of the MTV rock charts.
In autumn 2010 they supported the Donots on their The Long Way Home Tour, which helped them to become well known in Germany. In 2011, Royal Republic played at the major German festivals Rock am Ring and Rock im Park for the first time.
With their second album Save The Nation, which was released in 2012, the band reached even higher positions in the album charts. Many gigs followed, also outside Sweden, such as in Australia, Great Britain, France and the Benelux countries. As support act for Social Distortion, The Subways, Die Toten Hosen and blink-182, Royal Republic further increased their popularity.
On the album Royal Republic and the Nosebreakers, released in 2014, the tracks from the two previous albums were interpreted acoustically and with strong country influences. They were assisted by various studio musicians, most notably Daniel Olsson, Anders Svensson and Oskar Appelqvist. The accompanying tour took the rock band through Germany, Austria and Switzerland.
In 2016 Royal Republic presented their fourth album Weekend Man and three years later the fifth album Club Majesty.
With each album the 'voracious music nerds reinvent themselves with appetites that span pop, garage rock, heavy metal, americana, hip-hop and just about everything in between'. But no matter what the musicians change and how they develop, there are things that stay:
The musicians are self-confident and love to make a great show together. An unforgettable performance on stage that impresses and affects others – just like they experienced it in their youth at Metallica concerts. The band 'was never about being virtuosic. It's more like being part of a machine. The sum is greater than its parts'.
Royal Republic 'play for the dance floor' and 'love making people happy. It's the best thing'.
'Whoever you are, whatever your taste, Royal Republic welcome you with open arms. And whatever they do next, you can bet it'll be a hell of a ride…'