König & Meyer receives innovation award with TOP 100 seal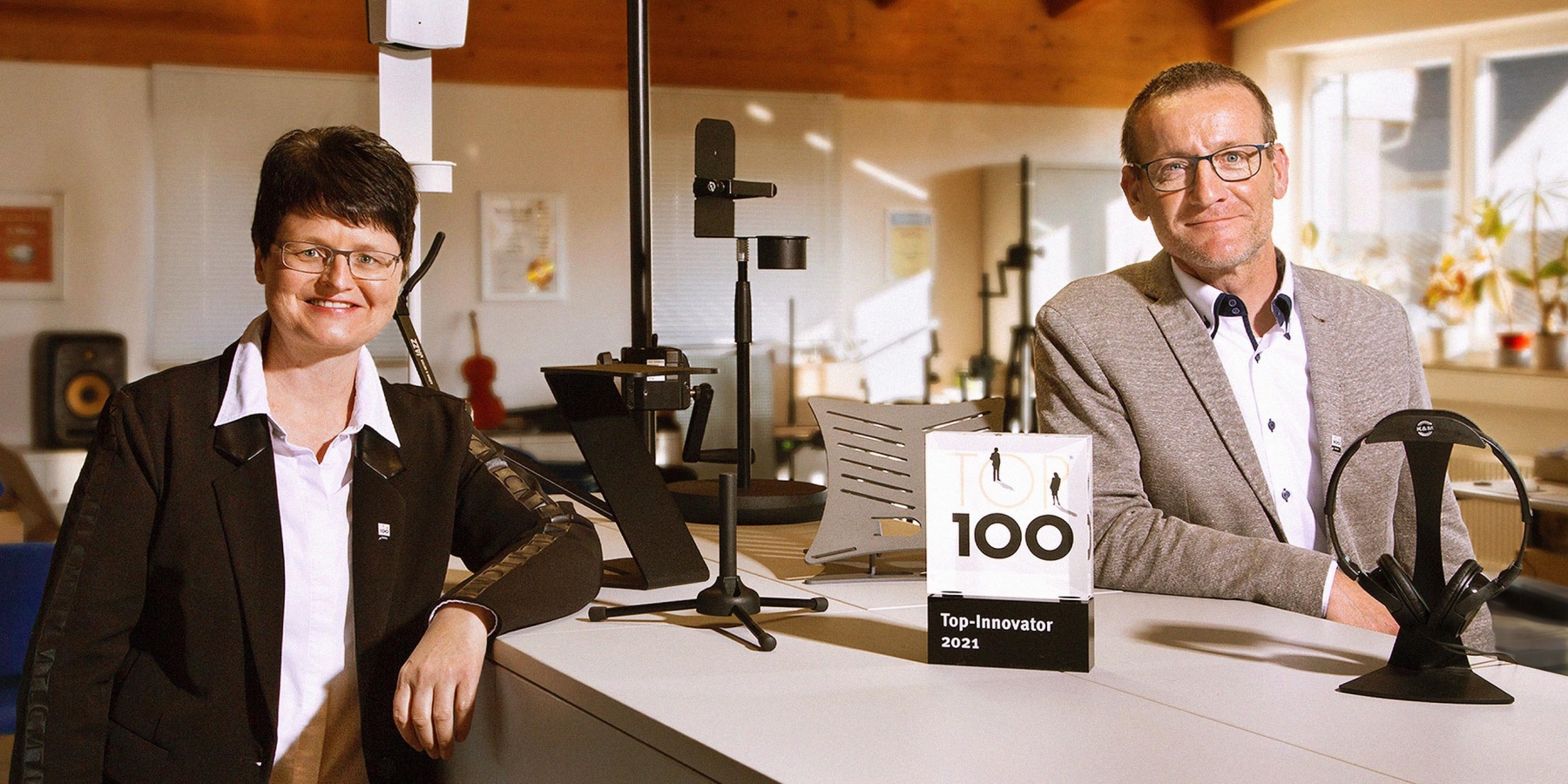 König & Meyer has received the TOP 100 seal for the first time. This puts us in the ranks of particularly innovative medium-sized companies from all over Germany. Previously, we were subjected to a scientific test procedure in which the innovation climate was able to convince the jury.
For more than 25 years, the "TOP 100" seal has been awarded to mid-sized companies based in Germany in recognition of outstanding innovation management. Every year, one hundred innovative companies across three size categories receive the award. In this way, "hidden champions" are bundled together on a single platform across all industries, which enables them to gain considerable visibility. As mentor, science journalist Ranga Yogeshwar gives this only competition of its kind a well-known face.
Companies are evaluated based on 120 criteria in five categories: Successful Innovations, Climate of Innovation, Innovative Processes/Organization, Benchmarking/Open Innovation, and Innovation-friendly Senior Management. The basic question is whether innovation is the product of deliberate planning and action or of chance alone, meaning whether innovative achievements can be repeated. The competition also looks at whether the solutions involved succeed on the market, and if so, how. This time around, special attention was paid to how companies responded to the COVID-19 pandemic.
Especially in these kinds of crisis situations, it is even clearer what innovative drive can achieve. With all cultural life in lockdown, demand for event technology and music equipment plunged. In response, König & Meyer sought out new opportunities. Within just three weeks, the company came up with a whole new product line and launched various disinfectant stands on the market.
CEO Gabriela König
"Our philosophy of streamlined communications, our own high level of vertical integration, and the structured processes we use for product development really proved their value here. The strong demand for these products helped us all through 2020 to absorb the sharp drop in sales that we saw particularly in terms of products for events, especially live events. The disinfectant stand product range has now grown to more than 30 products," says our CEO Gabriela König, describing the company's internal flexibility.
Our company also received special recognition for its structured approach to innovation management and the good innovation climate within the organization.
CTO Heiko Wolz
"We have a clear approach that ensures that the necessary steps from the idea to market launch don't have to be reconsidered every time, thanks to defined project management. Our portfolio is balanced and encompasses everything from short-term to long-term projects. Advances in product development are monitored and coordinated regularly. Every new product is reviewed and tested before it is launched on the market. We have innovation project teams composed of employees from various areas, who are continuously in touch, sharing information and ideas. Streamlined communications and flat hierarchies give us agility in implementing projects," says CTO Heiko Wolz, offering insight into the company's internal processes.
Everything comes togehter
Here at König & Meyer, expertise and creativity come together. We have our own design and development department and dedicated product managers who interface with the management and the technical departments and with the sales and marketing teams. Product ideas come directly from retailers or end customers, via trade fairs and other events or from the company's own employees. All this leads to about 30 new products, either innovations or improvements on existing products, being launched on average each year.
Our management is especially pleased to have received this recognition because it confirms the company's path thus far, the work it has done, and its future direction all at once. König says, "We have been supporting musicians in their day-to-day lives with innovative products and ideas for decades now. We always observe our market very closely and respond early on to trends so we can stay competitive and be the first to bring new and groundbreaking innovations to market. A thriving corporate culture that actively promotes and supports ideas and suggestions for improvements from employees is a crucial part of this."
TOP 100
The TOP 100 awards ceremony is scheduled to be held in Ludwigsburg, in the state of Baden-Württemberg, on November 26, 2021. König and Wolz hope they can both attend in person. If this is still impossible due to the pandemic, the organizers will have to demonstrate their innovative spirit.

---