Julien-K Prelistening and concert in Cologne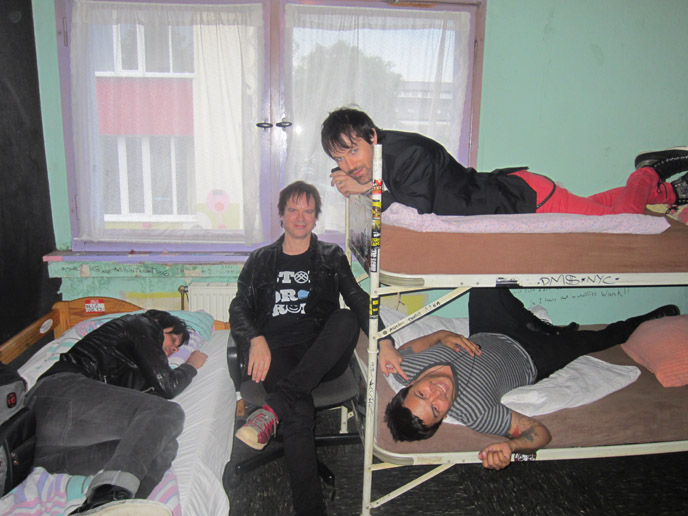 On June 10, 2011 our

endorser Julien-K

gave an exclusive concert in Cologne. Fans arrived from all over the world. The tickets were never on sale to the public. Only members of the official Julien-K Street Team "Systeme de Street" could get their hands on them – along with the winners of our Facebook contest, where we gave away 3 sets of 2 tickets.On this evening in the "Underground" Cologne bar, the audience enjoyed a unique preview of the new Julien-K album "We're Here With You" scheduled for release in autumn.
Then the band took the stage for a live concert, playing many of their songs.
I was there with Christian Fröber, who is responsible for the support of band and artists. While the line of fans in front of the entrance waiting for the doors to open at around 8 pm grew steadily longer, the König & Meyer equipment had been set up and the sound check was underway. In between we had the opportunity to say hello to the band and talk briefly to Amir about their stands and support in the USA. In a nutshell: the band is very happy with their support in the USA and would like to have an iPad 2 holder, which we will be more then happy to provide when they come out in July.
After the sound check (check out the pictures in the gallery) we all headed backstage for an interview. Ryan and Anthony "Fu" sat down with us for "question and answer time", as Amir was taking a break in bed and Elias sat across from us in front of a laptop.
Ryan and Fu told us that they really liked our new website and their endorser page in particular. When asked if they had ideas or suggestions for improvements to share, they told us to leave it just as it is: very cool.
On the Julien-K page, we described their music as synth rock, but now took the opportunity to ask again how they describe their style themselves. They confirmed that while synth rock was right, their music also went toward electro synth and that they also really like to be described as indie electro.
We have statements from some of our

endorsers

on their band pages describing what they think about König & Meyer. Now we asked Julien-K to tell us too, spontaneously, their ideas about König & Meyer and its stands.
Their response: K+M has an architectural and fashionable looking design as well as being functional and tough!
In this same vein, they also told us that they were familiar with König & Meyer long before they became an endorser and had always really liked our equipment, but it was hard to get in America. Which is why they are so happy about our support.
Our next question was when their new album would be released. Fall, we were told, so we asked why offer a pre-listening now. With this, and the entire evening, they wanted to show their fans their appreciation and arrange something special for them. So they decided to hold this exclusive event to thank all their fans for their loyalty and support. The fans, many of who knew the band personally from previous concerts, travelled from many different countries to this unique preview.
Then we talked to Julien-K about their time in Europe. After hearing that the first concerts in the Czech Republic had been a lot of fun, we asked what they did when not onstage. It turns out they work then too, perfecting songs or collecting, writing down and recording new ideas for songs with a tiny mini-studio they take along on tour. They think about how to improve or change the current show. And those rare moments when they're not working are down time. Of course they go out together or get a drink, but generally they try to use what little time they have to relax.
Towards the end, Christian Fröber wanted to know if and when a second album will be released by their other band "Dead by Sunrise".
Unfortunately they could not say, since nothing is planned at the moment, though they assured us this in no way meant none would ever be released.
With Julien-K "backstage in bed" – we were allowed to take all the funny photos of the musicians, now in the gallery. Then we thanked them and wished them a great show.
Which it was! Band and fans had a great time, as the pictures and video clearly show. A great atmosphere and good tunes at an up-close and personal concert that ended at 11:30. But that was not the end of the evening. The band then joined the crowd to talk, take photos and for a few drinks.
Which is how the successful evening wound down until late into the night.
---