König & Meyer at the international Musikmesse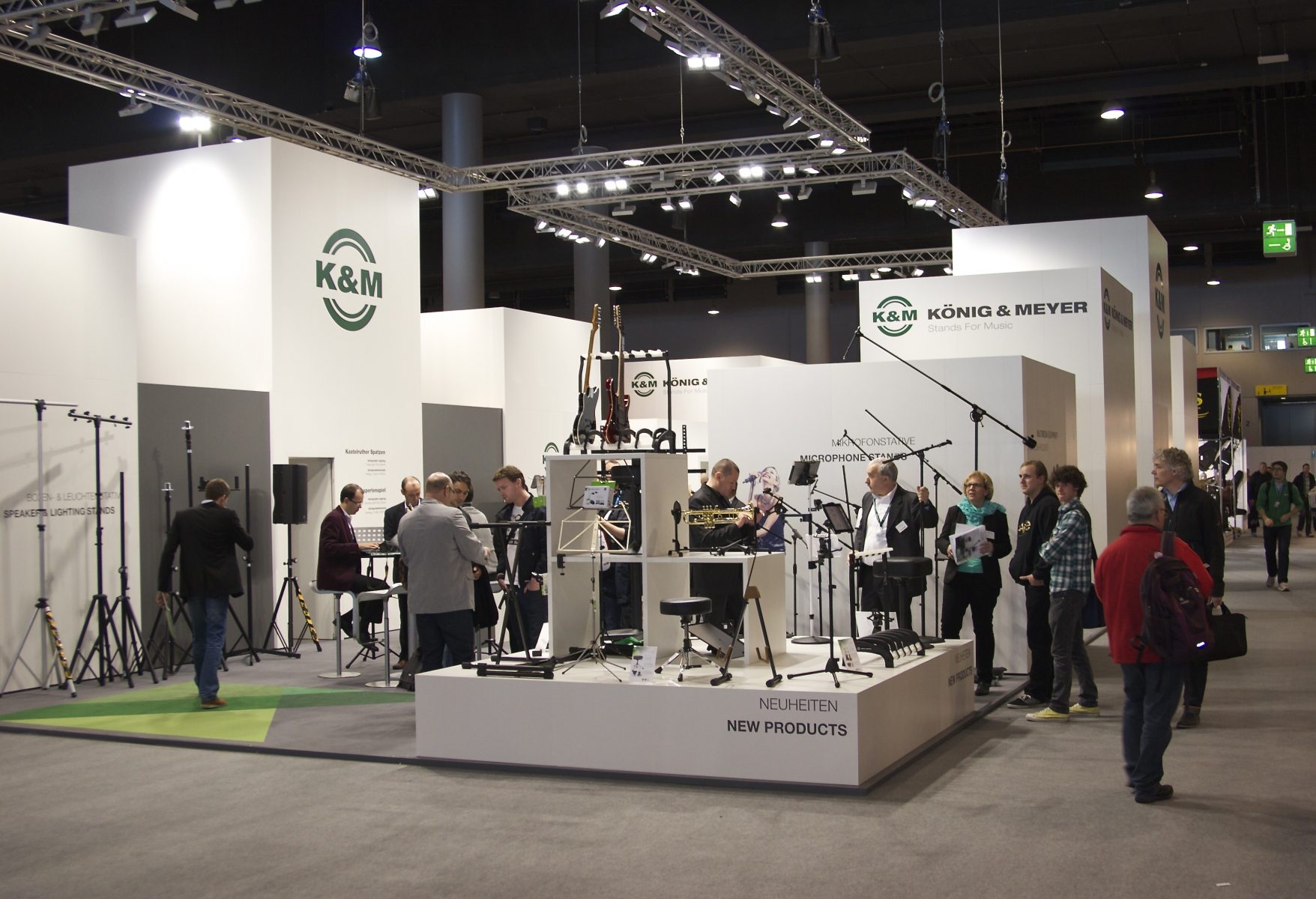 From April 10th through the 13th, we presented our products and services at this year's international Music Trade Show and affiliated Stage and Recording Studio Trade Show: Prolight + Sound, in Frankfurt.
During the four days 2,285 exhibitors from 54 countries exhibited their products and services. As the global market leader in high quality music stands, this venue for trade and music enthusiasts is König & Meyer's most important annual industry event.
At our new and completely redesigned 230 m² stand – characterized by a modern ambiance – local and international visitors were introduced to 40 new designs and developments, such as drum seats, piano stools and keyboard stands. Our focus this year highlighted König & Meyer's new multimedia equipment, ranging from our screen/monitor stands, over a range of iPad and Tablet PC holders to Smartphone holders.
Excellent product presentation, personal one-on-one interaction with trade show participants and reinforcing the Konig & Meyer brand were top priorities at this year's music trade show: "We want our visitors to "experience" of products and company. Trade shows offer the optimal setting to do just that. This is the only way visitors can gain a realistic impression and feel for the exceptional design, intelligent functionality, ergonomic handling, excellent product quality and outstanding service König & Meyer offers. We were very pleased with this year's trade show." (Managing Director Gabriela König)
Further Highlights included numerous Music Events providing the eye and ear much to enjoy, as well as an excellent opportunity to collect autographs:
On Wednesday the rock band "The Jerks" rocked the house for the third time on the Agora Stage. In the blink of an eye a large crowd found its way to the stage and judging by the applause "The Jerks" were a great success!
On Thursday the band "Electric Love" entertained the crowds from the Agora Stage. They were able to gain the crowd's imagination in no time. Electric Love had the crowd, which was made up mostly of trade show visitors, clapping and swaying to the beat of their tunes!
Ingo Pohlmann was at our stand on Friday and Saturday afternoon, to meet fans, answer questions and sign autographs. Ingo also delighted the fans by presenting the Guitar Playing-Aid »Pohlmann«, which is a joint development between Ingo Pohlmann and K&M.
The climax for the (female) stand-staff was the "Exclusive Concert" he held for us.
On Saturday, he was accompanied by his manager Henning Wehland (H-Blockx, Söhne Mannheims, and Judge on "The Voice Kids").
On Friday we looked forward to the most successful Volk Music Band of all time, a band that has received the honor of receiving the Echo award 14 times: The Kastelruther Spatzen
Our stand was "besieged" by excited Volk Music Enthusiasts hours in advance, to finally have Rüdiger (Hemmelmann) and Kurt (Dasser) sign autographs for an adoring crowd.
"Glasperlenspiel" – was the next Highlight at our main stand. The Pop-Duo, who is known for its successful participation at the Bundesvision Song Contest, not only was able to keep their song "Echt" in the charts for weeks on end, we are proud to say that they have joined our circle of endorsers.
On Saturday afternoon, Caro and Daniel signed well over 100 posters, as well as many CDs. The Duo was available for photos with fans; happy fans went home with a memento – a picture of themselves with the famous duo.
During the trade show the following artists and musicians visited us:
Axel Ritt (Grave Digger), Mike "Gomezz" Gommeringer (Reamonn, Stereolove), Vivien-Eileen (Sängerin, Model and former Aloha from Hell), Finn Martin, Jürgen Stiehle (Die Happy), Luxuslärm, and Thorsten Becker (Callejon).
---