Musikmesse Frankfurt from April 10 – 13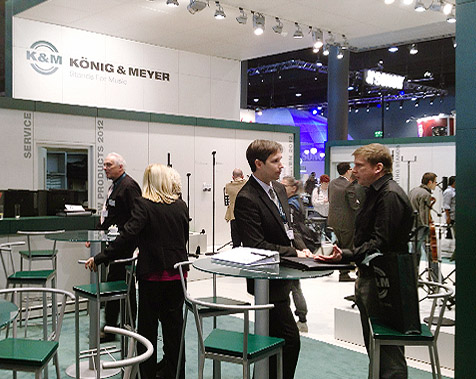 König & Meyer presents its new 2013 products
…and you are invited to attend!
Come visit us at the upcoming Musikmesse and Prolight + Sound in Frankfurt and experience almost 40 new music, studio and multi-media products, all featuring our fabled innovative construction and quality design, at our booths in Hall 3.0 and Hall 8.0 (NEW).
And we will also be offering additional musical highlights again this year!
It is with great pleasure that we announce two live acts for 2013 scheduled to play on the legendary Musikmesse "Agora Stage":
– on Wednesday, April 10 from 3:00 to 3:30 pm : The Jerks
– on Thursday, April 11, also from 3:00 to 3:30 pm: Electric Love
We have also doubled our autograph sessions this year!
On Friday, April 12 starting at 3:00, the Kastelruther Spatzen will be at our main booth C39 in Hall 3.0. Glasperlenspiel will sign autographs there as well on Saturday, April 13 starting at 2:00 pm.
As if that were not enough, we are also sponsoring a "Meet & Greet with Pohlmann – Ingo presents the "Pohlmann" guitar playing aid": Friday from 1:30 to 2:30 pm and Saturday starting at 3:00 pm, also at the main König & Meyer booth.
New and of interest to all public trade show visitors: in addition to Saturday, you can now also attend the fair on Friday starting at 2:00 pm!
We look forward to seeing you at our booths and hope you enjoy a successful and inspiring trade show visit to Frankfurt.
Our booths:
Musikmesse Hall 3.0 C 39, Prolight + Sound Hall 8.0 A67 (NEW)
Musikmesse and Prolight + Sound opening hours:
Wednesday through Saturday from 9:00 am to 6:00 pm
Click here for an interactive map of the trade show grounds and halls.
---