5 product features you should know about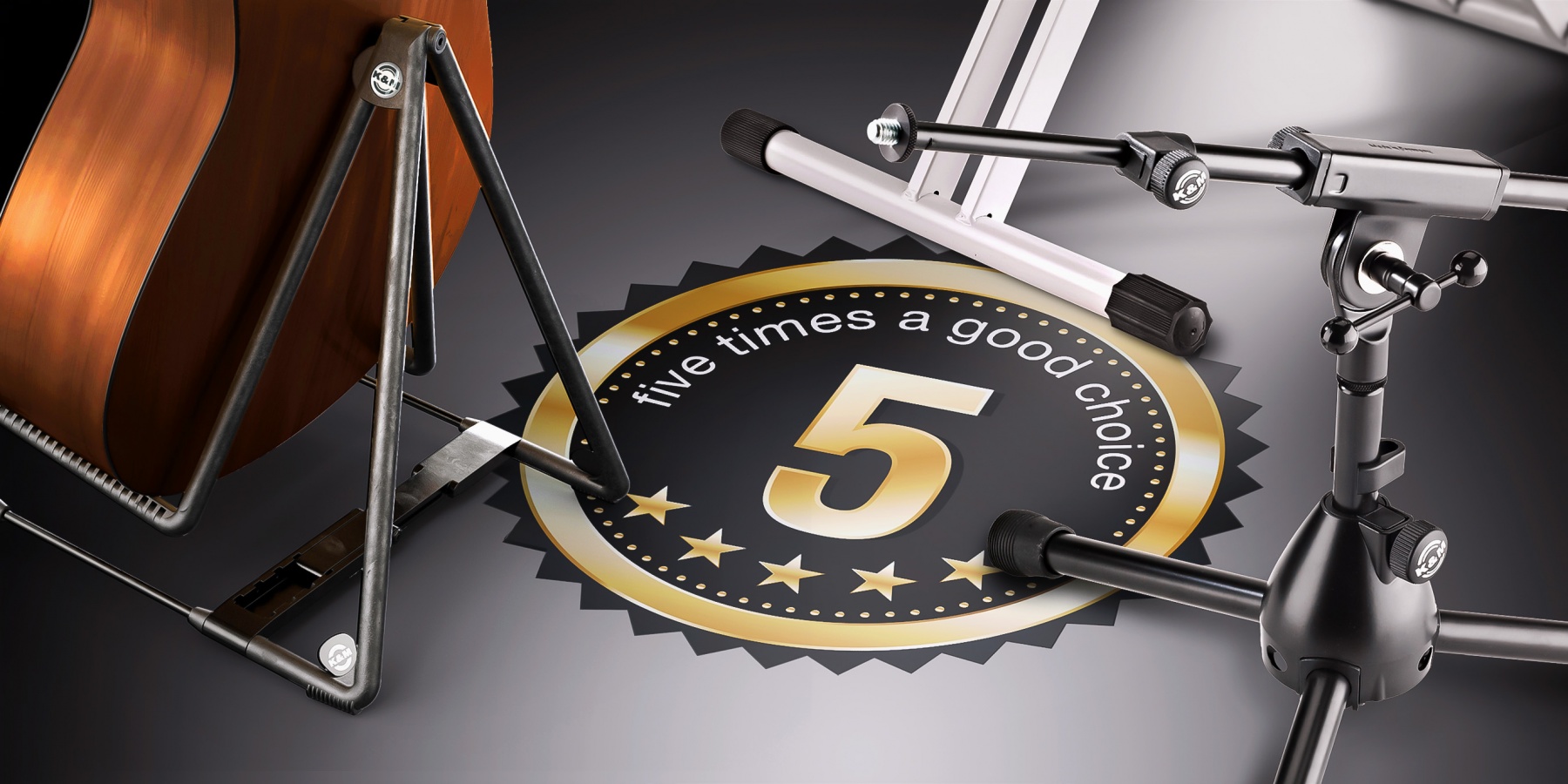 Many of our products don't show what they can do right at first glance. That's why a closer look is worthwhile. We drilled down into the details of these products for you and show you some (so far maybe unknown) product features.
Product feature 1: Always there for you when you need it!
As a guitarist, you probably feel the same way about desperately searching for your pick that you do about occasionally looking for your wallet, keys, and other small items. You might think it's in your pants pocket, but no. The only possible conclusion is that there must be a hole in your pocket. The jury is still out on whether there is a causal connection between your pocket and the way these everyday items mysteriously disappear. One thing is certain, though: a solution is urgently needed. To meet this need, we have developed a kind of "emergency storage" built into the »Heli 2« and »Guardian« guitar stands. It can hold at least two guitar picks, so there's always one ready when you need one.
Product feature 2: Coasters belong on the table, not under your keyboard stand!
Life is full of surprises. Granted, that's nothing new, but anyone who has ever been onstage will tell you it's true. The monitor speaker might sound tinny, or your wireless mic won't work, and then the DI speaker up and quits, and on top of everything, your equipment is wobbly. As a practiced musician, though, you know there's a solution to every problem, no matter how small. With the adjustable foot end caps built into various K&M keyboard and equipment stands, uneven flooring is no obstacle. To adjust the foot end caps to the floor, all you have to do is twist. It's a bit more elegant as a solution than grabbing a stack of coasters from the bar.
Product feature 3: Who likes cable spaghetti?
The rehearsal room and tidiness might seem like polar opposites. Still, you have to keep things at least somewhat tidy, and a smart cable management system is an easy way to do it! The Spider, for example, lets you run cables through the cable clamp. On the Omega, by contrast, you can use flexible hook-and-loop strips to affix the cables to the frame. Alongside the pedal cable, you will also find room for a power cord, effect machine cable, and your laptop charger. For the Omega, we also carry an optional cable organizer you can use to hide the charger, multiple plug and similar items. Keeping things neat and tidy is a cinch!
Product feature 4: You've got this all under control!
Audio technicians and staff are amazingly stoic and calm during gigs. There's a reason for that. They draw on their experience, habits, and the knowledge that they are working with good, reliable equipment. Good equipment isn't just a preference. It also makes everyone's work faster, more dependable, and more convenient. That's exactly why our base plates for speaker stands feature a built-in carrying handle. The handle gives you a secure grip, a clear advantage with something of this weight. The base plate also scores points with an opening for cords, letting you run cords away neatly and tidily under the base plate.
Product feature 5: Products to protect your health!
You've probably heard that we've added products to protect your health to our product range. Disinfectant stands, columns, and holders are now also available in the quality you expect from K&M. But we have actually always worked to develop stools, orchestra seats, and other items that are not just functional, but also ergonomically designed, so they are good for your health.
There's a simple reason for that. As a musician, you have heavy equipment to deal with: tube amps, active speakers, or a keyboard definitely carry some weight. To make sure you don't have to hold too much weight overhead for long when setting up speakers, our speaker stands feature a mounting aid. It lets you guide the flange of the speaker straight onto the speaker stand.
That's it for now! Looking for something you didn't see here? Leave us a comment or visit us our Instagram page, which shows all our products again in visual form.
---