5 K&M products that will make your everyday touring life easier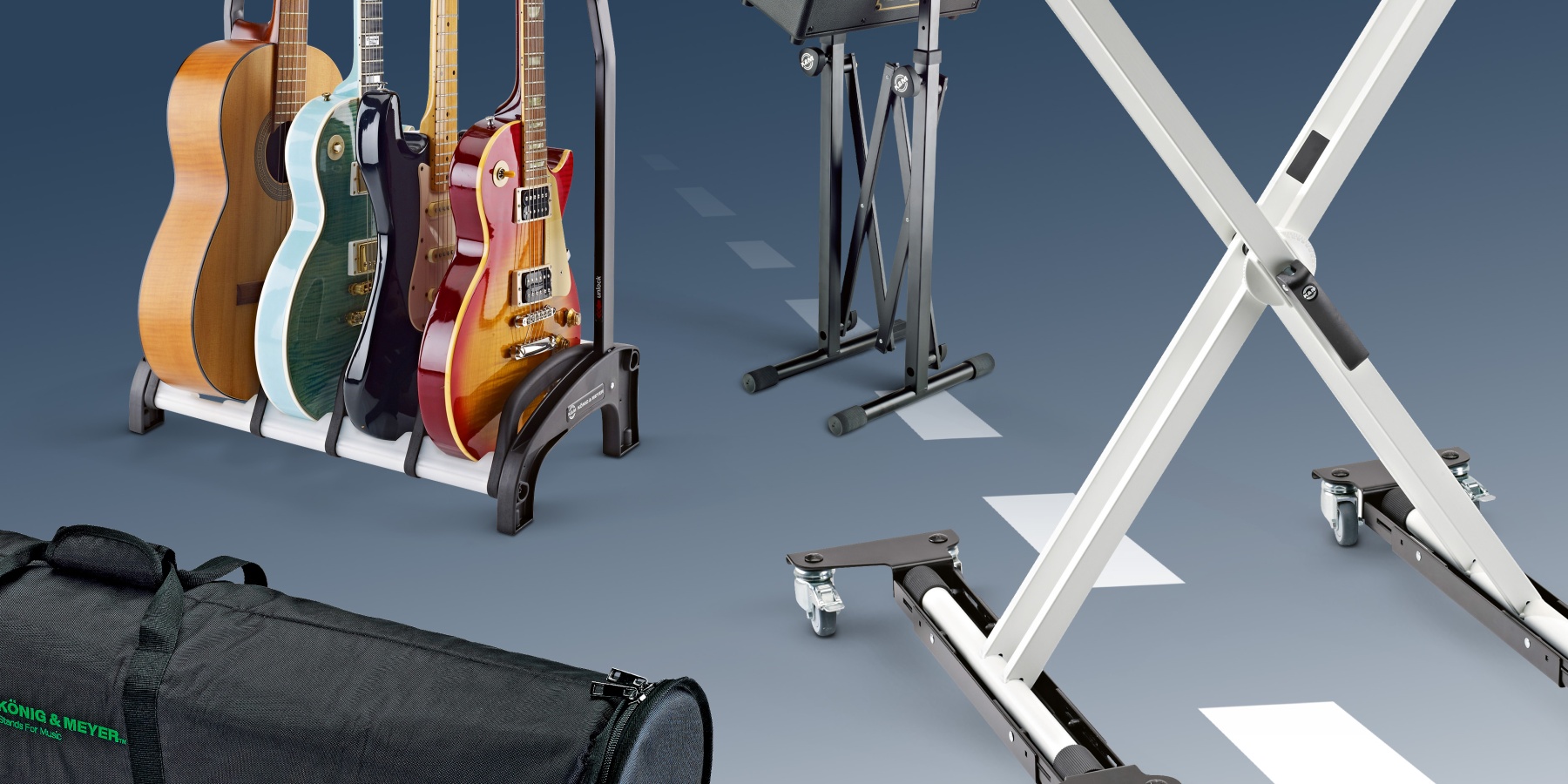 Summer is in full swing – and with it the long-awaited tour season. To make your gigs as stress-free and seamless as possible, we've prepared a few product highlights that deserve a permanent place on your tour bus.
11806 Trolley for keyboard stands
When moving, while shopping or setting up the stage, we often find ourselves faced with a key question: Should we lug everything at once or take several trips? If you've already asked yourself this question, you'll quickly come to the conclusion that there are convincing arguments for both approaches. Since we don't have a real solution for this lugging dilemma either, we present you the trolley for keyboard stands. With it, you can push your equipment onto the stage in future instead of hoisting it. The trolleys can be extended in length, making them compatible with all keyboard and equipment stands from the K&M range. Lockable casters ensure a secure stand and allow you to leave the trolleys under the equipment during the gig.
Sieh dir diesen Beitrag auf Instagram an
21316 Carrying case »Select«
A bold thesis: Singers don't like setting up! With stoic composure (annoyed band members might also call it arrogance) they bring the microphone stand and microphone onto the stage and signal with a cheeky grin that their job is done. If you're a singer and you want to free yourself of this stereotype, then we have the ultimate tip for you. (You won't be overworking yourself with it either, we promise! ;))
Six K&M microphone stands can be stored in the »Select« carrying case and easily pulled onto the stage with its built-in wheels. The carrying case is made of durable material. The K&M embroidery emblem rounds off its high-quality design. In addition to the carrying case for microphone stands, we also offer a case for two speaker stands in our range. Imagine the looks on the faces of your colleagues when you come on stage with speaker tripods…
21467 Speaker stand »Ring Lock«
Okay, okay, I'm coming! No one really wants to carry heavy things around. Especially in summer at 38° C. We can't do the carrying for you, but we can make things a little easier: With a weight of only 5.2 kg, the speaker stand »Ring Lock« is probably the most summer-proof of its kind. Made of aluminum, the speaker stand 21467 achieves a perfect compromise between ease of transport and stability and, with a load capacity of 50 kg, can support many times its own weight. By means of locking bolt and locking screw, the speaker stand can be adjusted to a height between 1370 mm and 2170 mm. The integrated »ring lock« technology ensures a secure hold of the satellites. Separately available carrying cases make transport even more convenient and protect the robust material from damage.
Sieh dir diesen Beitrag auf Instagram an
18826 Equipment stand
There are some things you can never have enough of. Some say free time. Others say chocolate. This 18826 equipment stand is basically the chocolate among our accessories. Versatile in use as a keyboard stand, amp stand or mixer stand, the equipment stand is a true all-rounder. The tray width ranges from 250 mm to 840 mm, thus accommodating equipment of various types. The support arms can be adjusted independently to a height between 595 mm and 1015 mm. An easy handling and transport-friendly pack size make the stand an ideal travel companion and indispensable both on and off stage.
Sieh dir diesen Beitrag auf Instagram an
17534 Four guitar stand »Guardian 3+1«
What do Ritchie Blackmore of Deep Purple, Jimi Hendrix and Pete Townshend of The Who have in common apart from the fact that they are masters of their craft? They need a lot of guitars on stage. And this is true notwithstanding what is probably the most obvious reason: difference in sound. These gentlemen have destroyed countless guitars during their gigs. Videos circulate online of them wildly smashing guitars of all kinds, captured for posterity.
Why are we telling you this? Because we'd like to tell you about our latest article, which will make your everyday touring life easier. Imagine if these guitars were all standing individually in guitar stands instead of neatly lined up next to each other? With the »Guardian« four guitar stands, you can prepare all guitars backstage and push them onto the stage all at once. Just not too hard – we don't want any broken guitars… Or do we?
Sieh dir diesen Beitrag auf Instagram an
Is there anything missing from this list that you personally wouldn't want to do without? Tell us and other musicians in the comments column or on Instagram. We look forward to your input!
---