5 products to upgrade your K&M product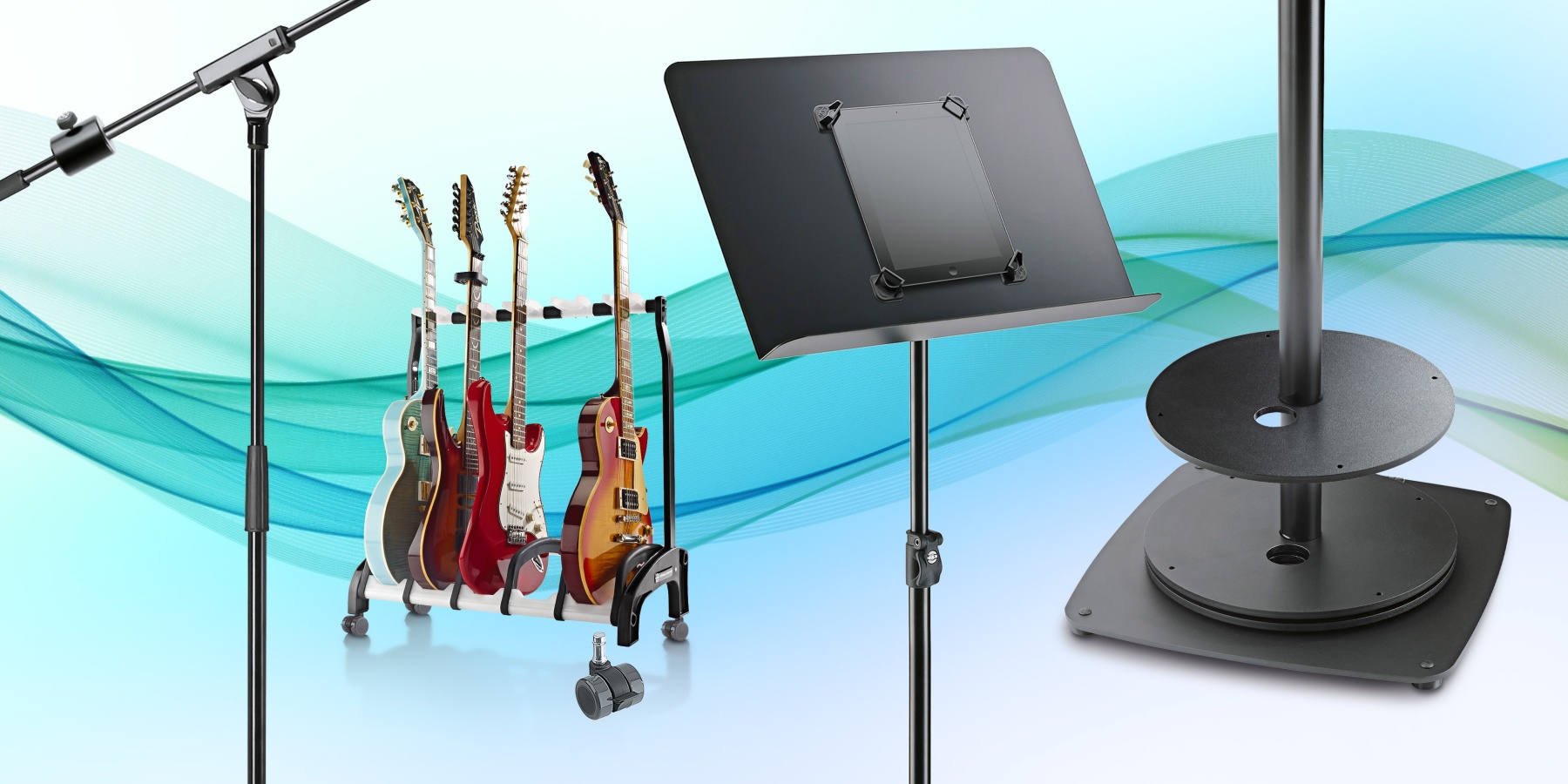 Balanced, resilient, down to earth, flexible, and dynamic: That might sound like the requirements section of a job posting, but in this case these are attributes our products can proudly claim. Especially when they are upgraded with add-ons. We have here five products that take a good König & Meyer product and make it even better.
A steady footing – 21445 leveling leg for speaker stand
Uneven terrain can be a real challenge for some equipment – and, of course, for you as a musician. If you've ever played on a wobbly keyboard stand, you know just how annoying it can be. But performance quality isn't the only reason to make sure your equipment is on a steady footing. Ensuring optimum safety is also an important factor. After all, a speaker stand falling down is probably among the top five disaster scenarios any band wants to avoid. With the 21445 leveling leg for speaker stand, you have one less thing to worry about. Screwed onto the foot structure, it can be used to adapt standard K&M speaker stands to uneven surfaces, for extreme stability. The adapter can be used to balance out height differences of as much as 200 mm.
Keeping your balance – 21105 counterweight for mic stands
Large-diaphragm microphones are distinguished by their ability to capture sound from various sources, true to life and with great accuracy. At the same time, though, they do outweigh dynamic microphones. This becomes an especially tricky issue when placing microphones in set-ups that require a highly extended boom from the mic stand. The 21105 counterweight for mic stands ensures stability in these cases. The weight can simply be attached to the boom and placed anywhere along it.
Resilience – 26709 additional weight for base plates
It is a fact that 5 kg can make a huge difference, as anyone who has ever tried their hand at the bench press in the gym can attest. The 26709 additional weights for base plates are simply attached to the distance tube, where they provide added stability for speaker stands. Depending on what is needed, the weight plates can be stacked, and with a second drill hole, they also allow for smart, tidy cable guidance.
Staying dynamic – 17510 Guardian caster set
First rock, then roll. With the 17510 caster set, you can keep your guitar stand in one place when needed and move it when you want. Four soft locking casters ensure smooth rolling and protect sensitive flooring, like hardwood or tile. There are also suitable caster sets for the Omega keyboard stand series.
Sieh dir diesen Beitrag auf Instagram an
Be flexible – 19708 magnetic tablet clips
The hybrid concept has a bright future in the automotive sector and beyond, as this new product shows. Use the 19708 magnetic tablet clips to transform your König & Meyer orchestra music stand into a tablet stand in the wink of an eye. Magnetic clips adjust quickly and easily to the size of your device. Push them to one side of your music stand, and you still have plenty of room for your printed set list.
What else do you think is a must for this list? Tell us in the comments or on social media!
---