Our new products from 2022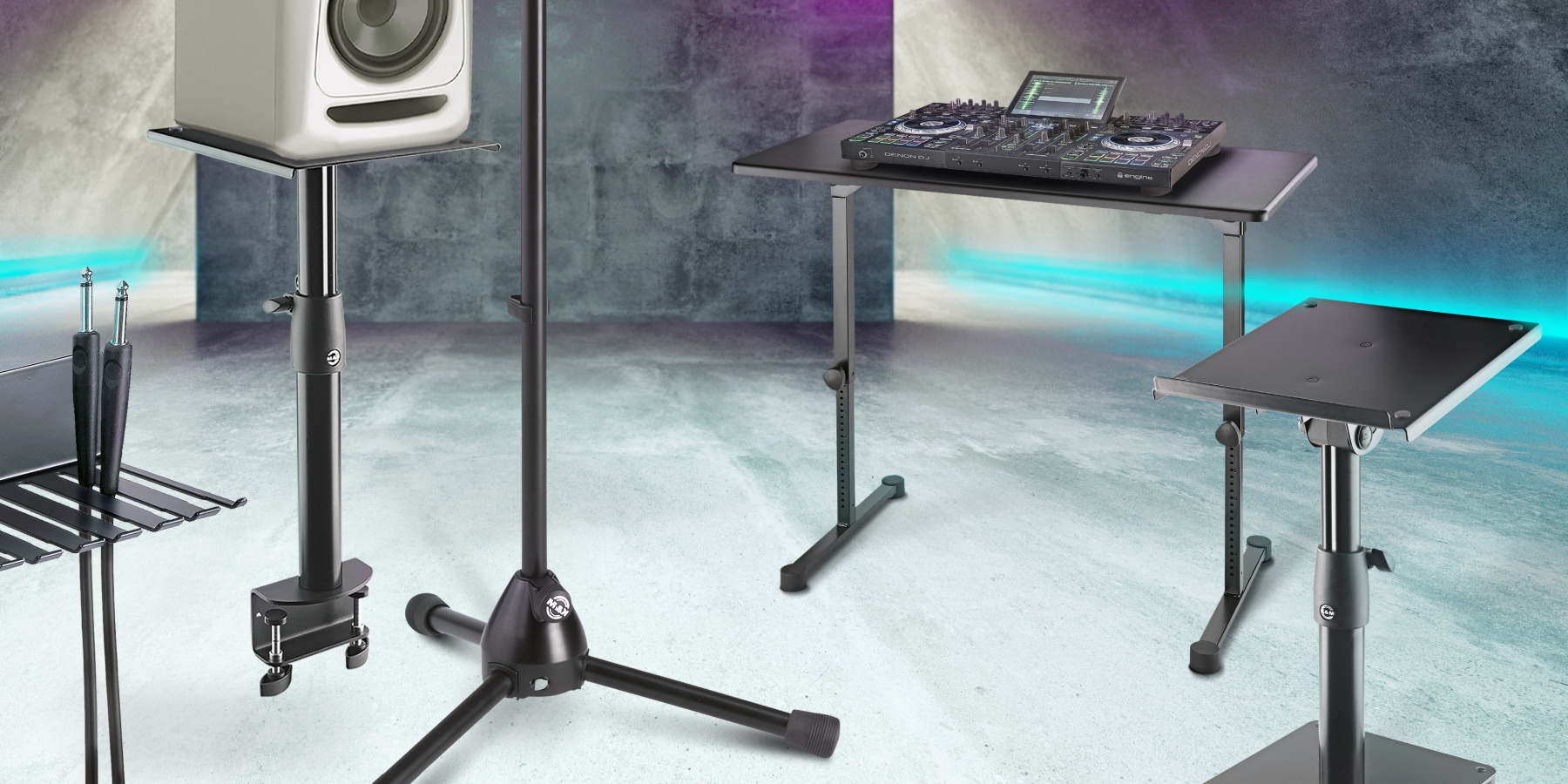 What's new at König & Meyer? Read on to find out. This blog post brings a number of new products to the table. And when we say table, we really mean it! This year, tables are a big focus for our new products.
New product #1 – 26777-000-55 Clamping desktop monitor stand
All options are truly on the table! These clamping desktop monitor stands can be attached to almost any edge of your studio desk using a table clamp. Six height adjustment settings allow you to set the near field monitors precisely to your sitting position. The support plate also rotates 360°. Comes with rubber pads to eliminate slippage for your monitor stand and provide acoustic decoupling.
Sieh dir diesen Beitrag auf Instagram an
New product #2 – 12170-000-55 DJ Desk
With this DJ desk, you're in tip-top shape for your next gig! Desk is 117 cm long and 60 cm wide, offering plenty of room for your equipment and accessories. It also adjusts in 15-millimeter increments to heights ranging from 62.5 cm to 104.5 cm. Feet fold in for versatile, space-saving transportation. Floor protectors complete the high-end look.
New product #3 – 20125-300-55 Microphone Stand L
Special occasions call for special measures. And special circumstances call for special mic stands, too! That was probably roughly the thinking behind the development of this mic stand by our design department. The mic stand L is for musicians who really want to take things to the next level. It extends to a height of 181 cm, and with a foot diameter of just 44 cm, it really saves space. At the same time, solid metal feet keep it standing securely.
Sieh dir diesen Beitrag auf Instagram an
New product #4 – 49020-000-55 Cable Hanger
Wobbly contacts, crackling and rustling: improper storage is one of the most common causes of cable defects. The 49020 cable hanger can be used to store XLR, instrument cables, and more properly so as to avoid damage. It also keeps cables ready to use whenever you may need them.
New product #5 26776-000-55 Tiltable Desktop Monitor Stand
This tiltable desktop monitor stand is the ideal preparation for your next studio session. And now let's lay our cards on the table. The support plate measures 230 x 250 mm and can hold monitors in a range of sizes. The plate can be continuously tilted up to 12.5°, ensuring that monitors are aligned perfectly. There are four individual height adjustment settings ranging from 350 to 450 mm.
For these products and many more, see our website and social media channels.
---