Overview of all K&M iPad & tablet holders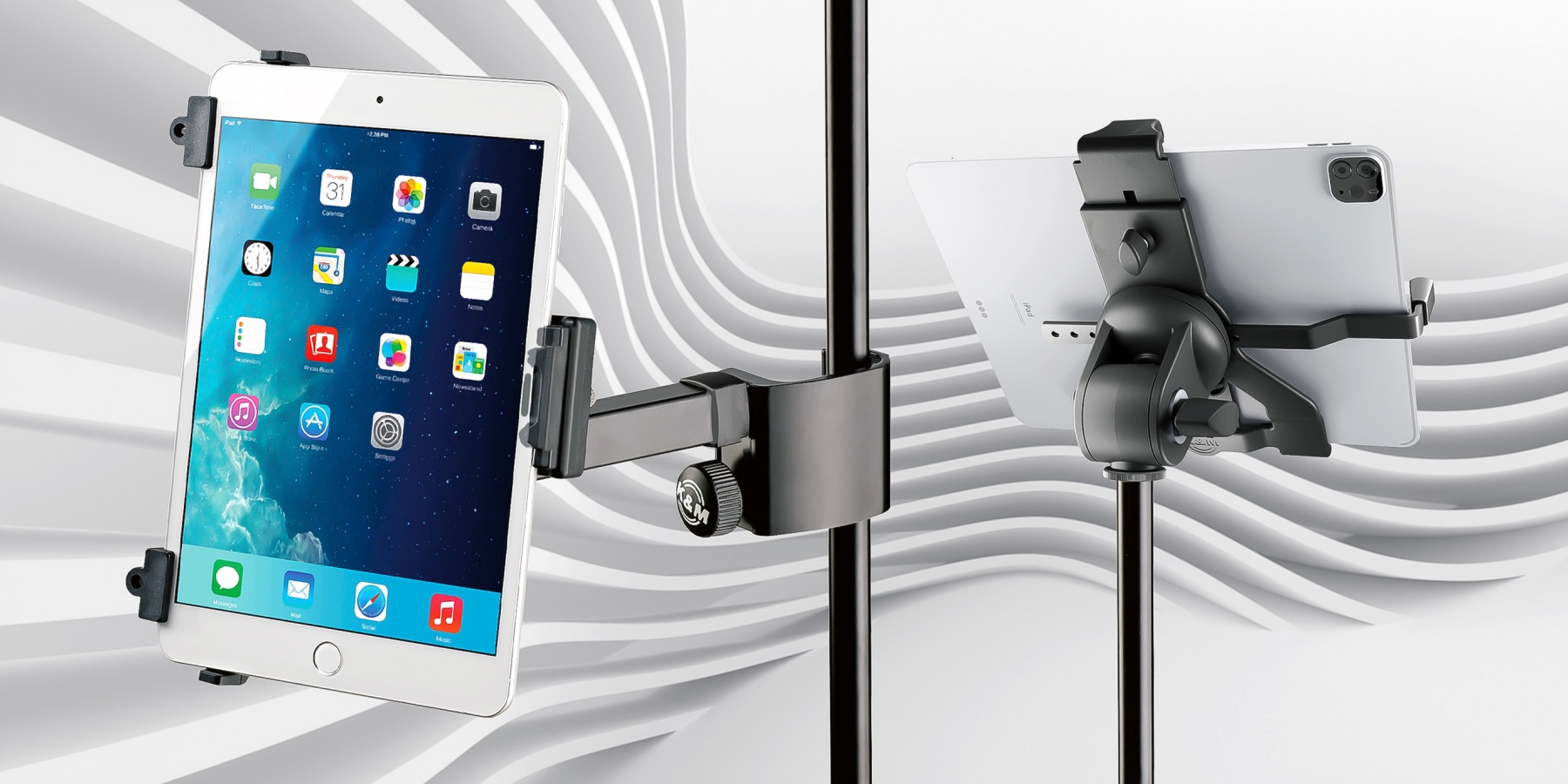 In the lists below you find all holders for iPads and different universal holders for tablets. Check out which holder is suitable for which iPad/ tablet.
The application "Stand Holder" means that a 5/8″ internal thread allows the holder to be attached to any microphone stand easily and quickly. Moreover you can attach the iPad Stand Holders to the keyboard table »Omega« (with the equipment 18817 + 18814) and to the column stands »Spider Pro« & »Baby Spider Pro« (with equipment 18873).
The "Holder" can be attached to any tubes up to 30 mm diameter.
The "Stand" consists of the holder and a stand.
The Wall Mount and the Table Stand complete this range of products.
Description
Order number
Application
suitable for
Tablet PC Holder 19743
19743-000-55
Holder
Suitable for all iPads (from iPad mini until iPad Pro 12.9") and tablets with a height form 120-222 mm
Tablet PC Stand Holder 19744
19744-000-55
Stand Holder
Suitable for all iPads (from iPad mini until iPad Pro 12.9") and tablets with a height form 120-222 mm
Tablet PC Stand
19775
19775-300-55
Universal Stand
Suitable for all iPads (from iPad mini until iPad Pro 12.9") and tablets with a height form 120-222 mm
Tablet PC Stand holder
19790
19790-316-55
Stand Holder
Suitable for iPads that have a at least a size of 9.7" (iPad 2rd - 8th generation, iPad Air, iPad Air 2, iPad Pro 9.7" - 12.9") and tablets ranging in height from 222-334 mm and width from 128-232 mm. The depth can vary between 6 and 11 mm.
Tablet PC Holder
19791
19791-016-55
Holder
Suitable for iPads that have a at least a size of 9.7" (iPad 2rd - 8th generation, all iPad Air, iPad Pro 9.7" - 12.9") and tablets ranging in height from 222-334 mm and width from 128-232 mm. The depth can vary between 6 and 11 mm.
Tablet PC Table Stand
19792
19792-016-55
Table Stand
Suitable for iPads that have a at least a size of 9.7" (iPad 2rd - 8th generation, all iPad Air, iPad Pro 9.7" - 12.9") and tablets ranging in height from 222-334 mm and width from 128-232 mm. The depth can vary between 6 and 11 mm.
Table PC Stand
19793
19793-316-55
Stand
Suitable for iPads that have a at least a size of 9.7" (iPad 2rd - 8th generation, all iPad Air, iPad Pro 9.7" - 12.9") and tablets ranging in height from 222-334 mm and width from 128-232 mm. The depth can vary between 6 and 11 mm.
Tablet PC stand holder 19795
19795-300-55
Holder
iPad 2nd-6th generation, iPad Air + Air 2, iPad Pro 9.7", iPad mini 1-5;
Tablets ranging in height from 163 to 242 mm and a width from 102 to 189 mm.he depth of the tablets can vary between 5 and 11 mm.
Tablet PC holder 19796
19796-000-55
Holder
iPad 2nd-6th generation, iPad Air + Air 2, iPad Pro 9.7", iPad mini 1-5;
Tablets ranging in height from 163 to 242 mm and a width from 102 to 189 mm.he depth of the tablets can vary between 5 and 11 mm.
Tablet PC table stand 19797
19797-000-55
Table Stand
iPad 2nd-6th generation, iPad Air + Air 2, iPad Pro 9.7", iPad mini 1-5;
Tablets ranging in height from 163 to 242 mm and a width from 102 to 189 mm.he depth of the tablets can vary between 5 and 11 mm.
Tablet PC stand
19798
19798-300-55
Stand
iPad 2nd-6th generation, iPad Air + Air 2, iPad Pro 9.7", iPad mini 1-5;
Tablets ranging in height from 163 to 242 mm and a width from 102 to 189 mm.he depth of the tablets can vary between 5 and 11 mm.
Tablet PC Stand 19855
19855-000-55
Universal (desk) Stand
all iPads & tablets
Not longer available
Former order number
Application
suitable for
iPad Stand Holder 19712
19712-300-55
Stand holder
2nd, 3rd or 4th generation
iPad Holder 19722
19722-000-55
Holder
2nd, 3rd or 4th generation
iPad Wall Mount 19732
19732-000-55
Wall Mount
2nd, 3rd or 4th generation
iPad Table Stand 19752
19752-000-55
Table Stand
2nd, 3rd or 4th generation
iPad Stand 19772
19772-300-55
Stand
2nd, 3rd or 4th generation
iPad mini Stand Holder 19713
19713-300-55
Stand Holder
iPad mini, iPad mini 2 and 3
iPad mini Holder 19723
19723-000-55
Holder
iPad mini, iPad mini 2 and 3
iPad mini Wall Mount 19733
19733-000-55
Wall Mount
iPad mini, iPad mini 2 and 3
iPad mini Table Stand 19760
19760-000-55
Table Stand
iPad mini, iPad mini 2 and 3
iPad mini 4 Stand Holder 19718
19718-300-55
Stand Holder
iPad mini 4 + 5
iPad mini 4 Holder 19728
19728-000-55
Holder
iPad mini 4 + 5
iPad mini 4 Wall Mount 19738
19738-000-55
Wall Mount
iPad mini 4 + 5
iPad mini 4 Table Stand 19758
19738-000-55
Table Stand
iPad mini 4 + 5
iPad Air-Stand Holder 19714
19714-300-55
Stand Holder
iPad Air, iPad 5th + 6th generation
iPad Air-Holder 19724
19724-000-55
Holder
iPad Air, iPad 5th + 6th generation
iPad Air-Wall Mount 19734
19734-000-55
Wall mount
iPad Air, iPad 5th + 6th generation
iPad Air-Table Stand 19754
19754-000-55
Table Stand
iPad Air, iPad 5th + 6th generation
iPad Air-Stand 19774
19774-300-55
Stand
iPad Air, iPad 5th + 6th generation
iPad Air 2-Stand Holder 19717
19717-300-55
Stand Holder
iPad Air 2 & iPad Pro 9.7"
iPad Air 2-Holder 19727
19727-000-55
Holder
iPad Air 2 & iPad Pro 9.7"
iPad Air 2-Wall Mount 19737
19737-000-55
Wall Mount
iPad Air 2 & iPad Pro 9.7"
iPad Air 2-Table Stand 19757
19757-000-55
Table Stand
iPad Air 2 & iPad Pro 9.7"
iPad Air 2-Stand 19777
19777-000-55
Stand
iPad Air 2 & iPad Pro 9.7"
Tablet PC wall mount 19794
19794-000-55
Wall mount
Suitable for iPads that have a at least a size of 9.7" (iPad 2rd - 8th generation, all iPad Air, iPad Pro 9.7" - 12.9") and tablets ranging in height from 222-334 mm and width from 128-232 mm. The depth can vary between 6 and 11 mm.
Tablet PC wall mount
19799
19799-000-55
Wall mount
iPad 2nd-6th generation, iPad Air + Air 2, iPad Pro 9.7", iPad mini 1-5;
Tablets ranging in height from 163 to 242 mm and a width from 102 to 189 mm.he depth of the tablets can vary between 5 and 11 mm.
Tablet PC Holder 19740
19740-000-55
Holder
according to the new universal holders 19734, 19744 and 19775
Tablet PC Stand Holder 19742
19742-300-55
Stand Holder
according to the new universal holders 19734, 19744 and 19775
Tablet PC Stand 19776
19776-300-55
Stand
according to the new universal holders 19734, 19744 and 19775
last update: March 2023
---