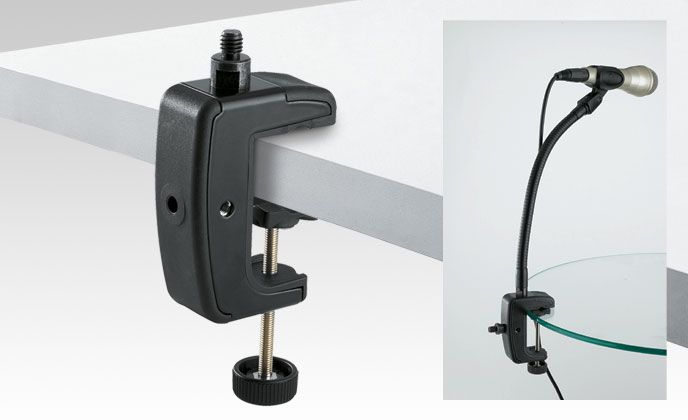 …as seen at the 2011 music trade fair: the table clamp with a 3/8″ (order number: 23720-300-55) or 1/4'' threaded connector (order number: 23720-100-55).

The threaded bolt can be attached in four different orientations using the universal wrench supplied. Optionally, the clamp may also be extended with additional or other threaded bolts (23721) – 1/4″, 3/8″ or 5/8″.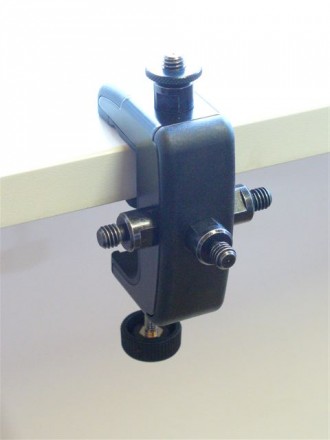 The clamp has a clamping range of 0 to 53 mm making it suitable for a wide range of uses. The clamp attaches strongly and securely in place aided by a stable metal frame, high quality plastic inserts and slip resistant rest. The special shape of the clamping surface allows the clamp to be used on flat surfaces and also round pipes.
We have several extensions and supplements in the range, all of which can be attached to the table clamp:
Goose neck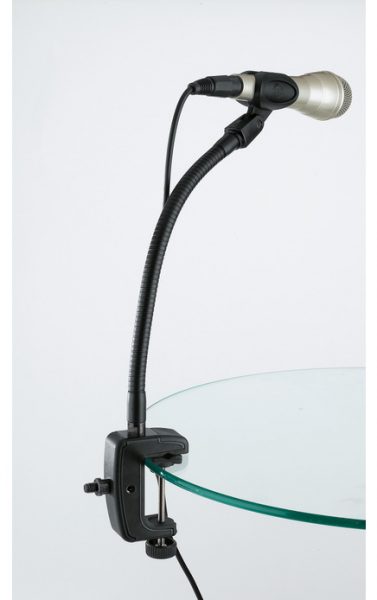 Ball joint 19695 (3/8 or ¼)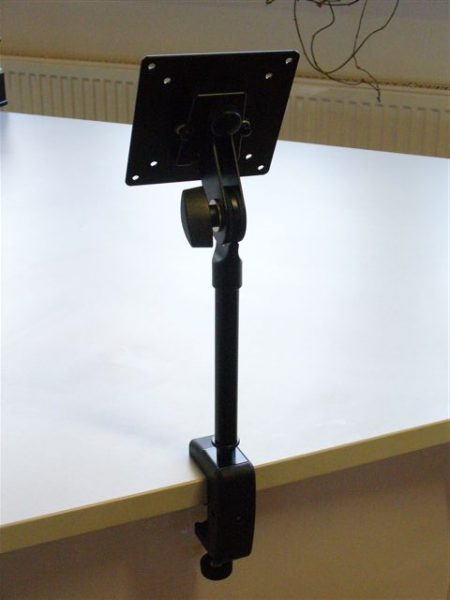 Extension section (7-232-000155)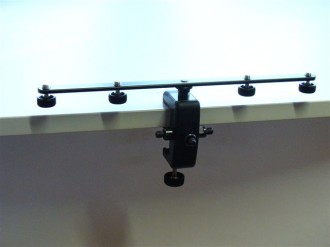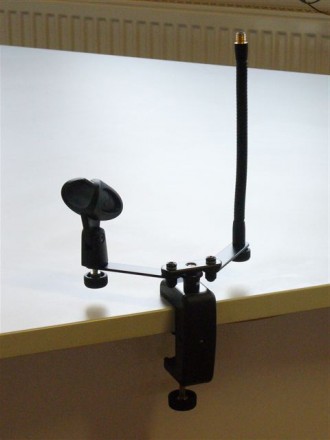 Supplementary bars 23510/ 23550/ 236
As it is not possible to photograph or list all the possible uses for the table clamp, but here are one or two examples:

–       Miking configurations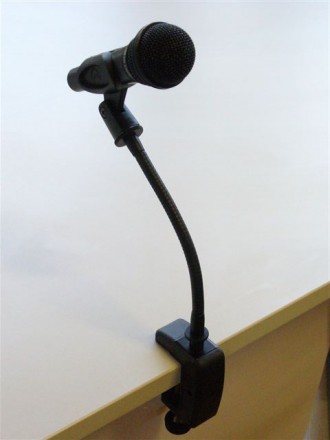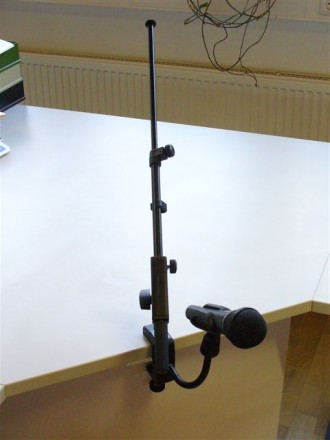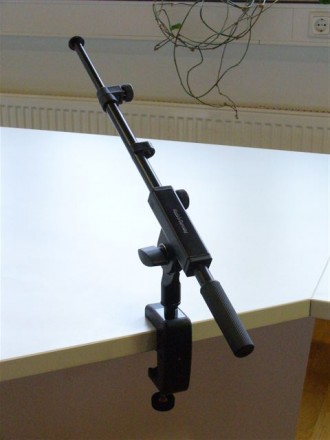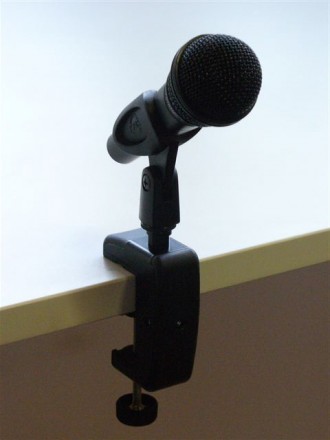 –       To attach an iPad-stand holder with or without an extension section 7-232-000155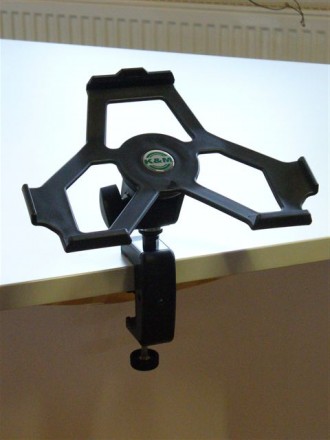 –       To attach a light, for example the »Starlight« Music Stand Light 12235
–       To attach monitors with the Adapter for Monitors 19685 and extension section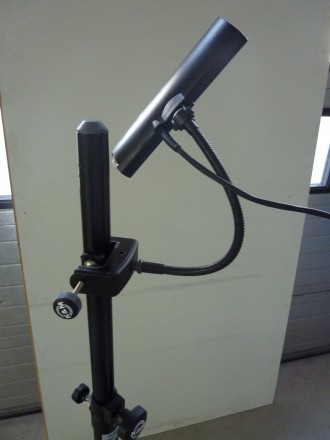 –       To attach cameras with the Ball Joint 19695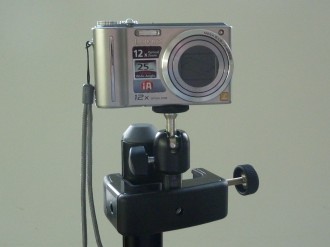 –       To attach video cameras with the Ball Joint 19695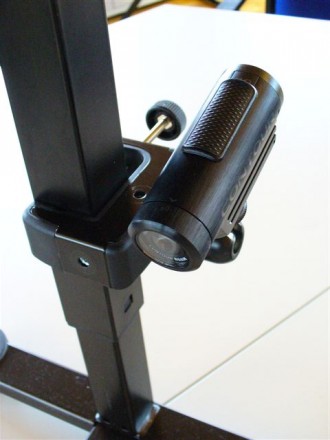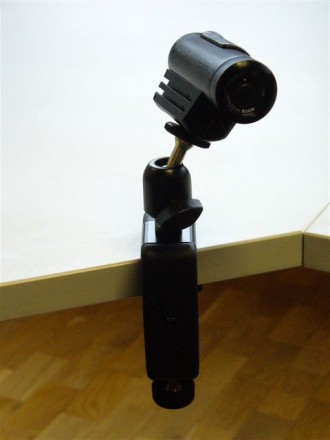 –      To attach spotlights with the extension section 7-232-000155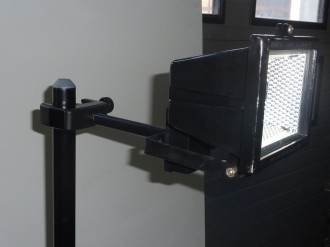 Several attachments may be combined as required using the universal wrench.
In addition there are other products in the range which are based on the table clamp:
The clever holder means the Desktop Microphone 258 can be turned 360° in stepless increments. At the same time the height and direction can be adjusted as required. An additional pullout provides extra reach.
Our popular smooth-action Desktop Microphone Boom Arm 23850 with 3/8″ or 5/8″ threaded connectors for recording studios and multimedia work stations has also been equipped with the innovative table clamp. Microphones weighing up to 0.8 kg can be aligned and positioned simply and easily.
The microphone can be mounted on the Microphone Holder 240/5 either vertically upright or at an angle of 90°. Additionally, the hexagonal rod can be mounted either horizontally or vertically on the table clamp.
The soft rubber-coated headphone rest with the Table Clamp 16085 can take 2 standard headphones. In addition, 2 in-ear headphones can be hung on the slotted front. The headphone holder can be positioned in four different directions using the clamp screw. In addition the holder can be turned 90 °.
As you can see, there's no end to uses for the clamp.
We are looking for your ideas for the clamp!
For what do you use the clamp and for what could it be used?
---