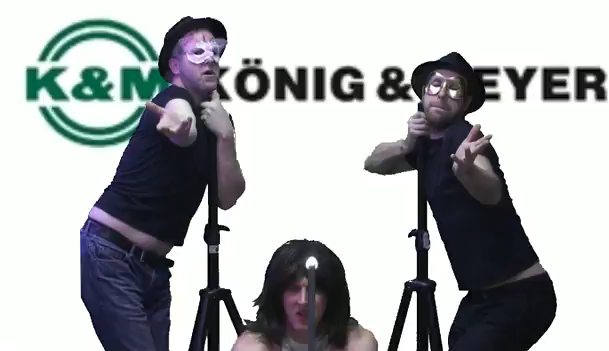 "God bless König & Meyer
They make stands for what you do!"
These nice words are from a song written by the music store "Factory Sound" from Australia. They are good with words and so they wrote new lyrics for the  song "It´s raining men".
They also made a creative and amusing video for this very funny and chrarming "König & Meyer" song.
We´ve been very suprised and pleased about it.
So have fun!
"Our favourite brand of stand, bar none. Germany's Konig&Meyer has been producing awesome quality stands for over 60 years. Speaker stands, microphone stands, lighting stands, and a huge array of instrument stands and accessories. We've loved them for at least 15 of those years.
Anyway, we were sitting around after work hours earlier this week, having a cleansing lager, talking about the good old days, and light a bolt of lightning – we were struck with an idea for a little promo clip. Any excuse really.
For more intelligent information on K&M stands, catch up with us at http://www.factorysound.com – we keep more K&M stands in stock than any other shop in Australia. Cheers!"
---