"H-Blockx" at the K&M booth in Frankfurt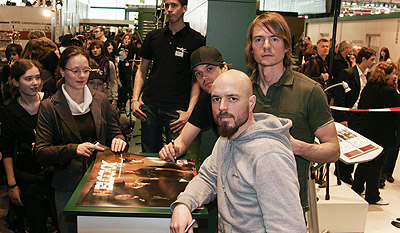 On Saturday 15th March 2008 excited fans waited patiently at the König & Meyer booth until Tim, Steffen and Gudze from the band "H-Blockx" had signed the posters several hundred times.
The band has been sponsored by König & Meyer since 2007. Formed in 1993, "H-Blockx" from the outset epitomized the German crossover scene. Six studio albums and well over 1300 concerts in Germany and abroad have made the band a permanent fixture on the German rock scene. But unlike many other musicians of their genre, the band finds itself in a constant state of flux. It is supposedly leaving safe musical paths behind. It is changing and is maturing. The current album "Open Letter To A Friend" is testimony to this evolution. "The hardest task is to be honest with oneself. If you vocalize things they become tangible," says singer Henning Wehland. Emotional as the songs are, the album is a far cry from being an 'emo album'. Hard rock music is what hits you when you load the CD.
But even if the style of the "H-Blockx" has changed compared to the previous albums, one thing has not changed even after 17 years of H-Blockx: The irrepressible joy of playing and the love of rock 'n' roll!
---