Last-minute presents to warm the heart of any musician!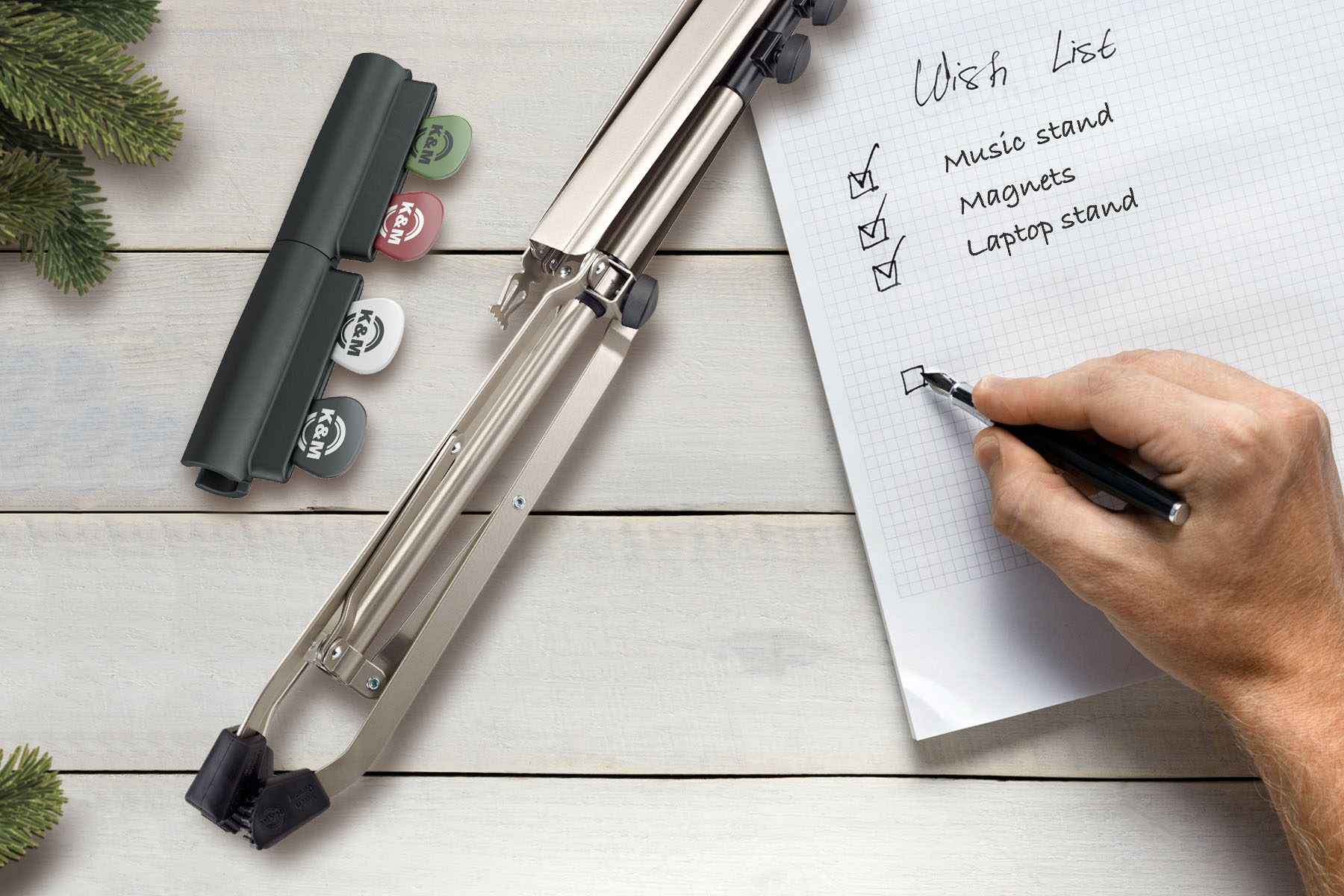 This wish list if for you if you're…

.

… looking to turn your Christmas bonus into more equipment!

… in need of a gift to make your musically talented mother, sister, grandmother, girlfriend, musically talented father, brother, grandfather or boyfriend happy!

… interested in giving your bandmates useful gear!

… an indecisive musician!

We've got the right gift for any musician on your list.
10700 – Music stand
'Tis the season to visit a Christmas market. And no Christmas market would be complete without good music. Unfortunately, outdoor winter gigs come with their own set of challenges: bad weather with sudden gusts of wind, uneven terrain, like bumpy cobblestones, and tiny stages where you have to move carefully to keep from setting off a Domino-Day-worthy cascade of falling instruments and equipment. Challenging conditions require exceptionally robust and stable gear. We recommend our Music Stand 10700 to get you through the trials of a winter wonderland performance. With its 3-piece telescopic design, this music stand folds compactly, making it a flexibility star. The unique foot construction will withstand anything a stage can throw its way. And if you're looking for a little something to fill a special someone's Christmas stocking, we recommend Carrying Case 10711-000-00 .
12295 –"Dimmer Light" Music Stand Light
And while we're on the subject – a skilled combination of fairy lights, candlelight and modern lighting effects create much of the charm and delight of a traditional Christmas market. But they tend to leave musicians in the dark, or at least in blinking, low light, making it hard to even see their music. Bright spotlights are a no-go though, as they would destroy that cozy, fireside, Christmassy feeling. Something more subtle, like our "Dimmer Light" Music Stand Light 12295-018-55, provides the perfect balance between enough and too much light. It clamps onto any music stand where twelve dimmable LEDs illuminate an entire sheet of music. Runs off batteries or the grid for the extra flexibility you need.
16075 – Headphone Table Stand
Entertainment electronics rank high on the list of presents Santa better have in his sleigh, and consumers do their part to run up the Christmas sales figures too.  So lots of manufactures introduce their new headphone models during the season of giving. Those lucky enough to find the coveted new cans under the tree will never want to put them down again. When they do, the new darlings are gently laid on a soft, forgiving surface like a baby in a manger. Headphones are works of art today with manufacturers rushing to meet consumer demand for pleasing aesthetics. It would be a shame to hide them away in drawer or the original packaging. Our 16075-000-56 Headphone Table Stand displays them in the elegance they deserve, and its simple yet modern design is a win for any home or studio.
12190 – Laptop Stand
The time between Boxing Day and New Year's is usually jam-packed with all kinds of local festivities. Here in Wertheim alone, guests can trip the light fantastic at one of the many "after X-mas" parties to the music of (cover) bands and local DJs giving chart toppers from the last few decades their own, special spin. A laptop is an essential companion to the usual controllers and turntables. To keep your laptop from taking off across the dance floor though, you need a laptop stand that will keep it secure. This is just what our 12190-000-56 Laptop Stand was designed to do.  Made of high-quality materials, it tilts to three angles and is ready to play a supporting role to your star performance. The adjustable stops pins will hold any size laptop securely on the support plate, and fit a controller or mixer too. This laptop stand will also make all your roadie responsibilities during your Boxing Day to New Year's "tour" that bit easier. It folds flat and weighs just 1.8 kilograms, ideal for tucking into any gig bag. And for a stocking stuffer or secret Santa gift, we recommend Carrying Case 12199-000-00.
21090 – Microphone Stand
Our 21090 Microphone Stand is a tried-and-true classic. And as we all know, you can never have too many. The 21090 Microphone Stand extends up to 1.60 meters high and the telescopic boom arm sets it apart from the pack. Though it weighs just 3.2 kilograms, this microphone stand is made of robust materials and perfect for home or on the road.
It is the perfect gift for singers who play guitar or piano too, the host of the Christmas-time karaoke party, and it makes a nice addition to a small, acoustic drum kit.
#ChristmasatKnM
The perfect Christmas present for every musician:
+++
Looking for a secret Santa gift?

+++

You drew a musician as your secret Santa victim? You'd like to get them a nice little something, but it has to be just right? Never fear, we've got the perfect gift list all drawn up:

Gone with the wind? There is more to the 11580 Power Magnet than just its good looks: it will keep sheet music on the stand, affix a to-do list to a white board, and hold the local pizza shop menu fast on the practice room fridge. Take care though, as magnets tend to disappear into the same black hole that swallows picks!  (MSRP for 2 magnets: 5.60€)

Playing to stereotype: musicians are a thirsty bunch. To keep beverages off the floor where they present a serious hazard to equipment (pedals, cables, etc.), we designed Drink Holder 16020-000-55. A clamping screw makes it easy to attach to music and microphone stands and it holds bottles, glasses and cups up to 8.5 cm in diameter. So this season, keep your mulled wine and wine safely tucked away in the right holder. (MSRP: 12.50€)

Trading in your snowboard for a surfboard? Christmas in Australia or Hawaii looks exotic and strange to us Europeans, with Christmas Eve on the beach instead of snuggled up in front of a fire. Capo 30920-000-02 sends a Christmas aloha to the ukulele fans in your life. It lends any Christmas carol that Hawaiian touch. (MSRP: 17.10€)

I'm dreaming of a digital Christmas. For those who have been bitten by the travel bug, a Christmas spent in New York, London or Straßburg is the dream of a lifetime. Others can't imagine being away from hearth and home during the holidays. Advertisers for well-known smartphones take advantage of this divide with ads that tug at the heartstrings, like a tearful wave over FaceTime. For longer calls, tuck your mobile into Smartphone Stand 19850-000-55 and it seems like your far-away loved one is almost in the room. Set it in that empty spot at Christmas dinner, at the head of the table during a board game, or close by while opening the presents under the tree.  (MSRP: 11.40€)

Commercials … er, Christmas can be so romantic…

Gift the gift of a New Year's resolution. "Where the heck are my picks?!?" What are friends for, if not to point out your faults, large and small? "Don't be such a slob!" would be the direct (and honest) approach. The second option walks that fine line between bribery and diplomacy. It is both a thoughtful gift and a very subtle hint to overcome the odd bad habit or two.  You can't go wrong with Pick Holder 14510-000-55, a fine way to bring out your guitarist's inner neatnik. (MSRP: 5.20€)
Our secret Santa tips:
---