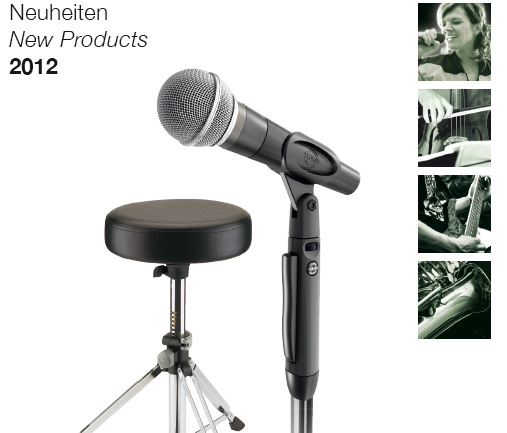 Just in time for the music trade fair /Prolight + Sound 2012 in Frankfurt, we would like to introduce you to almost 25 new products!
Here is an exclusive, but brief overview for you:
»Elegance« – a fitting name for our new avant-garde rod-hand microphone stand. The exciting slim design is based on an elegant triangular combination. The height of the stand can be adjusted silently and smoothly with the one-hand clutch with an ergonomic release mechanism. The undetachable and unobtrusively incorporated knurled screw provides stability for the microphone/microphone clamp. An exceptional round steel base with a plastic cover guarantees optimum stability for minimal weight.
Further new products in the Microphone category are the Microphone Stand 26125 made with long and larger-sized tubes. The flat-based and practical Design Desktop Microphone Stand 23250 and the Microphone Clamp 85070 for secure, fast and easy attachment and suitable for all popular "XL" microphones.
We are also proud of our new Thrones & Benches products:
The »Picco« drummer's throne features a small footprint, making playing in confined spaces possible. Height is adjusted with the patented push button system, making the "small one" even more covetable.
The »Grande« drummer's throne is a comfortable, stable all-rounder with an adjustment mechanism with extra fine notches at 10 mm steps, a pull-button and clamping lever.
The »Uplift« piano bench is a new development in piano benches. Pneumatic-spring assisted height adjustment means the seating position of the attractive bench can be adjusted to suit the individual.
"Enlightenment" is provided by two lights: the universal «Mighty Bright Hammer Head« and the attractive «Mighty Bright Encore Light«.
As an alternative to the clothes peg on the music stand, we have a new Sheet Music Holder 11590, this patented innovation was designed and development by the first prize winners of the "Creative Heads 2011" talent competition for schools.
The new Clarinet Stand (15227) and Trumpet Stand (15217) are suitable for rehearsals, performances or to present products elegantly. A generous clearance between the instrument and floor means even miked-up instruments are protected and held securely.
Another new product is the Tenor Horn Stand 149/2. The practical holder, a secure instrument rest and the integrated mouth piece holder make this sturdy stand suitable for the tenor horn or baritone.
There are also new Speaker Stands. Firstly the Stand 19500 with an extra flat base and secondly the Professional Stand 21463 with an integrated pneumatic spring system with a lifting power of 25 kg.
Following on from the top guitar stands «Roadie« and «Guardian« from last year, this year there is "only" one new Guitar Wall Hanger from König & Meyer. The stable Hanger 16220 with wood elements is a real eye catcher and able to hold most types of guitars.
The music stand category also has a newcomer: Orchestra Music Stand 11940 featuring a perforated sheet music rest. It is easy to set up and pack away using the user-friendly quick-release lock.
In addition we have another Universal Stand 15920 for a maximum of three dampers from trumpets, cornets and flugelhorn and the new Tiltable Stand Adapter 19780.
Last but not least – on the market since mid 2011, the iPad2 holders are featured among our latest products:
– iPad 2 holder
– iPad 2 stand holder
– iPad 2 wall mount
– iPad 2 table stand
And ALL IPad 2 Holders ARE SUITABLE for the NEW IPAD!
---