The classic 210/2 turns 50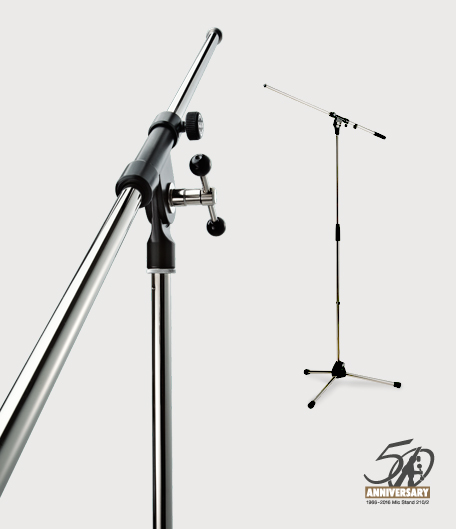 The microphone stand that has made history for the music accessory manufacturer from Wertheim, König & Meyer, and that evolved into an absolute classic turns 50 this year.
67 years ago, Karl König and Erich Meyer founded the company König & Meyer in Wertheim, first producing music stands and thread gauges. In 1954, the production of microphone stands began in cooperation with the company Siemens. The first microphone stands had a screw-in base section and no boom arm. To improve functionality, at the end of the 50s, the company's founder, Karl König, developed a unique swivel joint to adjust the boom arm. Martin König, the company founder's son, was already working as a toolmaker in the 50's at his father's plant, making microphone stands himself. After obtaining his degree in mechanical engineering and having worked for the companies Philips and BASF, he returned to the company as plant manager in 1965. In 1966, the father and son developed a new base construction for the microphone stand: the screw-in base was replaced by foldable legs. Additionally, the shape of the socket was redesigned – an idea that has stood the test of time. The 210/2 microphone stand was born. Today it is the standard for a professional and reliable stand on stages and in studios with elaborate functionality and extreme durability. The use of high-quality materials and optimized production processes ensures that the 210/2 as well as all other König & Meyer products possess the utmost quality.
Visitors can come from April 7th to 10th to our booth at the Frankfurt Musikmesse 2016 in Hall 8.0 A46 to admire a special production of the classic microphone stand 210/2 in gold.
We would like to thank all of our customers, musicians and friends that have made this product their own.
---