Trade fair follow-up report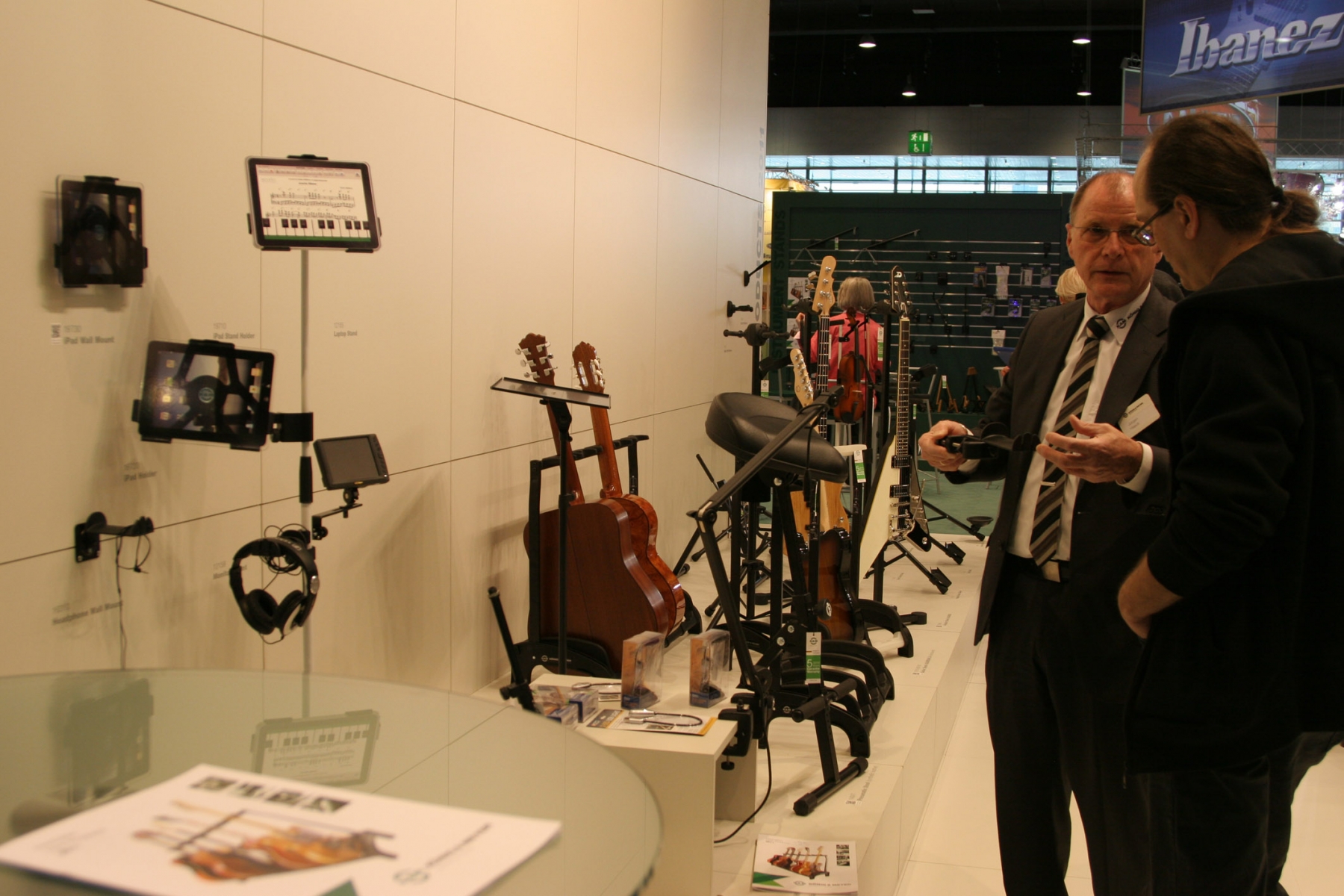 The four day Frankfurt Musikmesse ended on Saturday 9th April having hosted a record number of exhibitors. The 2384 exhibitors from 55 countries at the Musikmesse and Prolight + Sound technical trade fair presented the latest in instruments, music software, sheet music, accessories and services. The world's largest trade fair for music, sound and light businesses is also the most important trade fair for König & Meyer. Once again the main focus was on contact with international customers and the presentation of new and highlight products.
König & Meyer was very satisfied with the way the trade show went this year. The company had three different booths in three different halls. The main booth in Hall 3.0 and the Prolight + Sound booth in Hall 6.1 were supplemented by a small satellite booth in the Keyboard hall 5.0.
All the major national and international dealers, but also interested end-users visited the König & Meyer exhibition booth for information on a variety of brand products, but mainly this year's new products. The centre of attraction was the »Guardian«, a professional multiple guitar stand for up to five guitars and the »Roadie«, a tour-compatible companion which can take up to four guitars on its support arms. In addition the iPad holders were much appreciated as the iPad is now well integrated in the music industry thanks to the numerous apps for musicians.
Four new videos were launched for the products »Roadie«, »Guardian«, the iPad holder and the pneumatic stool. The videos can be found on König & Meyer's YouTube channel and the new website. Another new feature for the ten products with a video is the QR catalogue code, which when scanned with an internet-capable mobile phone app, opens the video via the URL. You save yourself the search for the video on the internet or typing in a long URL and you go straight to moving images.
On Thursday of the trade fair, König & Meyer introduced the band "Seven Hell" which was performing on the Agora Stage for the company. A special highlight on Saturday was also the autograph session at König & Meyer's main booth. The singer and the bassist of the rock band "Jennifer Rostock" spent an hour signing posters and posing for photos with their waiting fans.
The band also gave a video interview, which König & Meyer will be presenting online very soon.
During the four trade fair days, many customers were also introduced to the new website which went online at the beginning of the exhibition. The address remains the same, www.k-m.de , but there is now a completely new presence for the music accessories manufacturer.
Next year on 21.-24.03.2012, König & Meyer will once again be taking part in the music industry's biggest event.
---