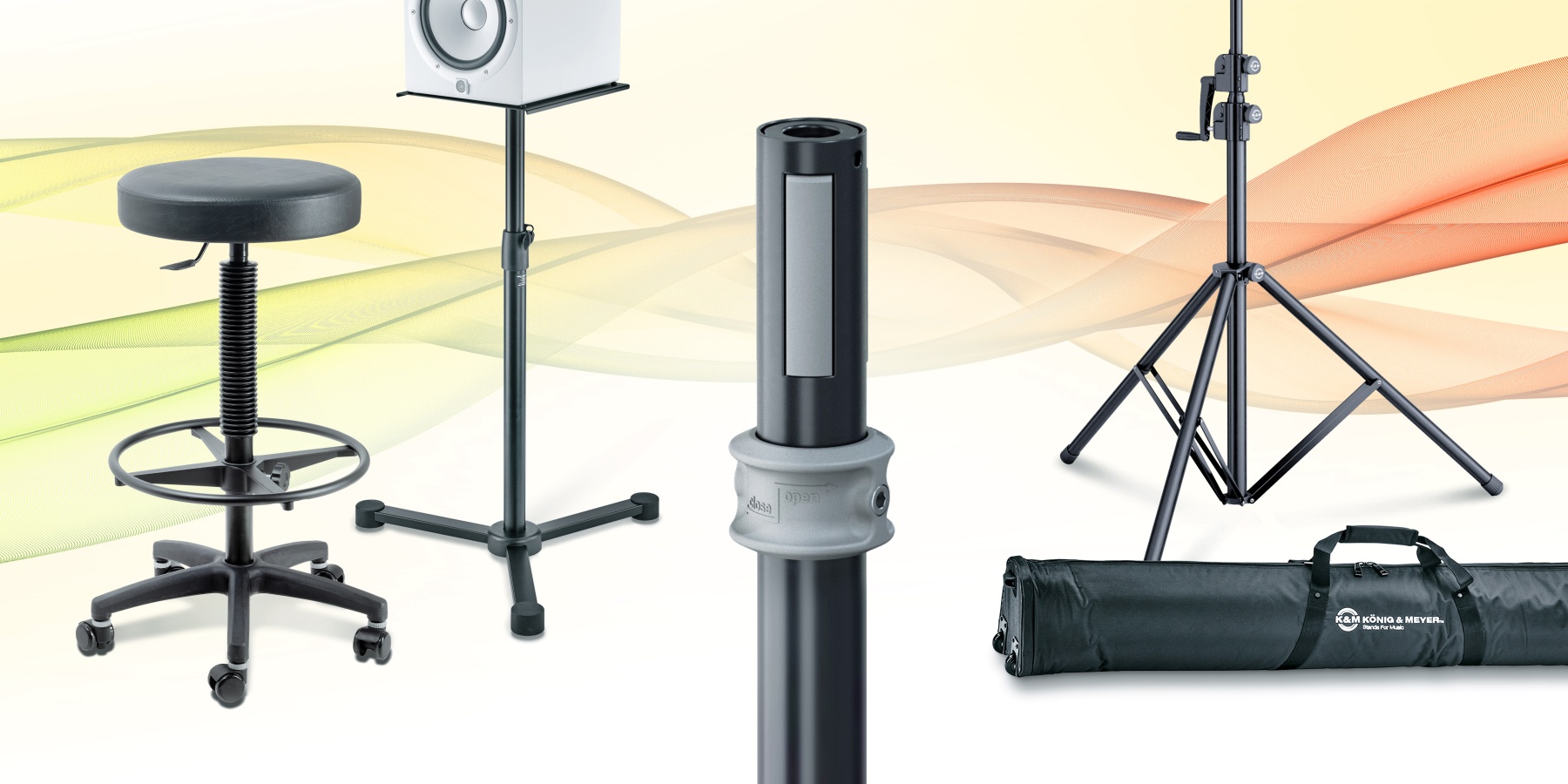 This article presents five new products for 2023. Happy reading!
21439 Easy Lock speaker stand
What do a K&M speaker stand, Sunday morning, and a song by German rapper Cro have in common? They're all easy in their own way! Easy to operate, easy to enjoy, easy to sing along. The »Easy Lock« speaker stand, which features patented new fastening technology for a firm, vibration-free fit, can extend to a height of 2117 mm and is easy to secure with a clamping screw. A durable powder coating puts the finishing touch on the superior-quality overall image of this speaker stand.
14089 Guitar stool
When mastering in the studio still needs that finishing touch, a solo isn't quite perfect in the rehearsal room, or the sound check onstage is taking longer than expected, many musicians know there's only one way to go: just have a seat and keep at it. The 14089 guitar stool keeps you comfortable all the while. The upholstered seat has a diameter of 400 mm, and the height can be set anywhere in the range of 595 to 850 mm for a comfortable fit. Casters with a load-dependent brake function (which can be conveniently switched on or off) make this guitar stool perfect for any use, anywhere.
26722 Monitor stand
The more time we spend in the studio, the more we notice minor annoyances that are easy to fix with add-ons and equipment upgrades. The 26722 monitor stand would very likely fall into this category, in several ways. If you don't have enough space for your near-field monitors at your workstation, for example, you can use this monitor stand to place your speakers to the side as well. The steel construction is extremely stable, holding speakers up to 35 kg securely in the desired position. The support plate measures 280 x 320 mm, and when it comes to the ideal listening height, you can choose among six levels from 677 to 1232 mm.
Sieh dir diesen Beitrag auf Instagram an
24731 Carrying case for wind-up stand "3000"
A place for everything, and everything in its place. That includes stand cases, of course. This carrying case for our new wind-up stands is designed specifically for the rough and tumble of life on tour. Rugged woven nylon outer material protects wind-up stands from scratches. Comfortable carrying handles and built-in wheels make it a snap to transport your stands.
Sieh dir diesen Beitrag auf Instagram an
24166 Speaker wall mount M
We're giving you more flexibility for mounting your speakers! Thanks to an adjustable clamping depth ranging from 170 to 220 mm and width of 170 mm, the speaker wall mount M is the perfect fit for various speaker and monitor models. The boom can be swiveled up to 54° on both sides and tilted continuously up to 17°. This makes it a cinch to adjust monitors and other equipment to your listening position and the spatial conditions. Handy, readily accessible controls help with the process. For larger speaker models, we recommend the new speaker wall mount L.
Sieh dir diesen Beitrag auf Instagram an
We're excited to hear what you think of our new products for 2023. Let us know in the comments! Nice to know: You can find all our other new products for this year here or in this video:
---