5 years guarantee on König & Meyer products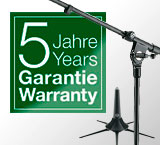 Purchasing a König & Meyer product is always a good decision, for all of our products are characterized by high quality and reliability. In particular, our product quality is reflected in a high level of functionality and in first-class materials. Sophisticated production processes and qualified staff ensure that practically all products are delivered to you punctually and in perfect condition.
The quality of our products, which has been proven over decades, offers a sound basis for extending our guarantee period beyond the statutory two-year warranty to 5 years. In this way we have sent out a clear signal for the König & Meyer brand.
The 5-year guarantee covers all material and production defects in König & Meyer products.
If the product should become defective within the warranty provisions, please return the product to the dealer where you have purchased it. We will decide together with the dealer if we repair or replace the product free of charge at our option. Proof of purchase must be submitted with the returned product. Please do not send any products directly to König & Meyer.
In addition, we offer you a 10-year guarantee of availability for most spare parts for our products.
We know that we can only be successful if our customers are satisfied. This is why customer service has top priority for us. We believe that the extended guarantee period will make it even easier for you to decide in favor of a König & Meyer product.
Further information about our guarantee.
---