A holder for everything from 9-inch tablets to iPad Pro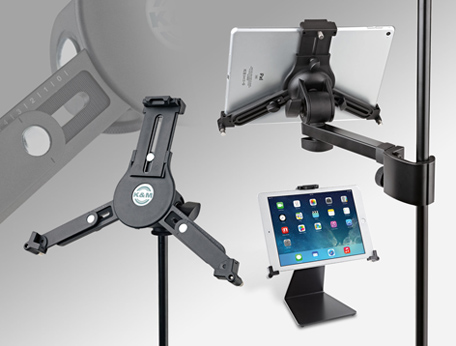 Right in time to accompany the holders made to fit the current iPad models, König & Meyer launched a new series of universally adjustable tablet PC holders on the market in November.
The new holders' support arms can be adjusted to the size of the tablet, allowing them to hold devices 220 to 331 mm in height and 128 to 232 mm in width. The depth of the tablets used can range from 5 to 11 mm.
Alongside classic iPads, the iPad Air, a Samsung Galaxy Tab (starting at 9.7") and the Microsoft Surface or Surface Pro, the holder also fits other models, such as the large iPad Pro. The tablets are inserted into the holder after the settings have been adjusted via a snap lock and taken back out the same way. Three different holder versions are available.
The Tablet PC stand holder 19790 is screwed onto a microphone stand via a 3/8" or 5/8" threaded bolts. The model 19791 can alternatively be attached to the side of any tube with a maximum diameter of 30 mm via a strong clamp element. The tablet PC table stand 19792 features a robust base, making it perfect for studio or home use.
All holders can turn between portrait and landscape positions. It is also possible to adjust the tilt and the holder angle.
---