Backstage Interview with Nightwish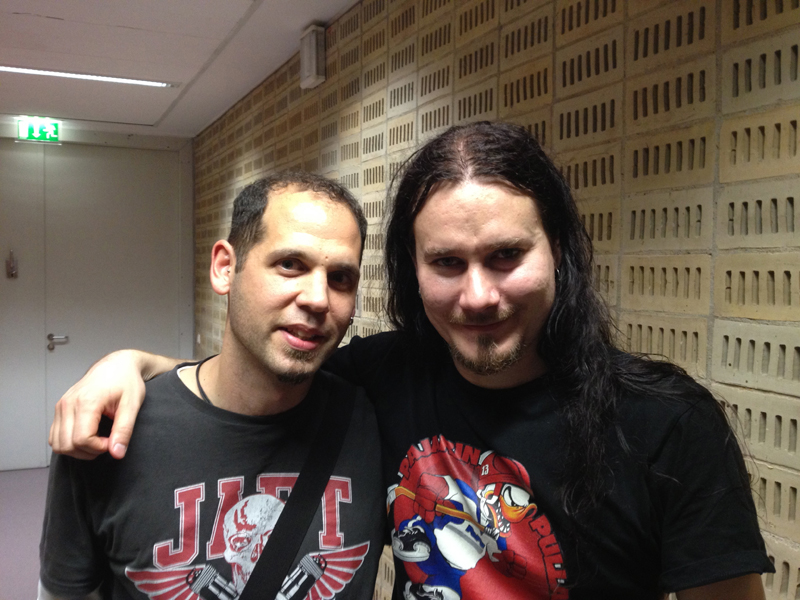 23rd April 2012 – this had been a great day for all Nightwish Fans! That day the finnish band held a concert in Frankfurt, Germany. It was the second concert in Germany of their world tour "Imaginaerum on tour". About 5000 people enjoyed the concert for almost  2(!) hours. The audience was thrilled by the amazing show and the songs of Nightwish´s new album "Imaginaerum" as well as songs of former albums.
After the successful concert Christian Fröber, our manager for endorsement, met the band backstage. He has arranged an interview with Tuomas, the leader of the band and here is what he said:
First we wanted to know how Tuomas got the idea of the tilted arms for his »BABY-SPIDER PRO«  keyboard stand which König & Meyer developed according to his concept. He told us that he got the idea from his idol, the keyboarder Jens Johannsson. Toumas saw his special position of playing a keyboard. He was so impressed that he decided that he wanted to play like this as well. Then the first solution was a modified version of our »SPIDER«, made by his technician and since 2007 Tuomas has been provided with this exclusive keyboard stand by König & Meyer.
How long have you been using König & Meyer stands and equipment, that was our next question.
Since 2004 the band has been using König & Meyer and as a König & Meyer fan Nightwish already became our endorsement partner in 2005. The answer of the question "And why just König & Meyer" was that they like the look, the easy use and the reliability. He said that they never ever had a complaint, so why change?!? Moreover Tuomas stated with a smile that he had chosen the »Spider« because of his fear of spiders.
Our next subject was the tour. Tuomas said: Yes, we are very satisfied with the tour so far. And this tour is also very special because of the multidimensional show. He explained that they had a big screen, pyros, drama, glitter rain and so on – so it was more than just a normal rock concert.
We asked: Think of your concerts – is there a country which you like best and what would you say, where your most loyal fans are. We noted that Nightwish has no favorite country. Their most loyal fans are in Finland. That´s logical, because as a finnish band here are their roots. In Finland they are well-known since the very beginning and here they had their first success.
The next question referred to another kind of concert namely to the cruise ship where the metal festival "70.000 Tons of Metal" took place. Tuomas reminisced about the time on the ship. He raved on the concert at midnight under a starry sky. It was one of the best experiences in his life. Five days, 42 bands, about 2000 guests – all in all one big party with a family of metal heads.
Social Media was the next subject. Tuomas admitted that he doesn't use social networks as Facebook or Twitter – the only thing he has is an e-mail account.
Nevertheless he has the opinion that social media is very important for Nightwish and luckily the other guys in the band care for it. So there is a Nightwish Facebook fanpage where they post stuff every day. And Tuomas also stated: The world is how it is – the first thing people do in the morning is to go on Facebook and to read the news. That´s why social media is important to reach people all over the world.
Finally we asked for a statement about König & Meyer and our stands. Just something that came to his mind spontaneously: Eight years without having one single problem – so since 2004 we have never had a moment where we would have considered using something else as K&M. Thank you for the excellent work.
---