DIE HAPPY at the König & Meyer Trade Stand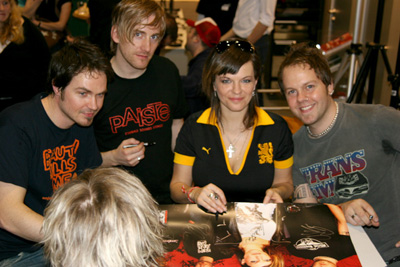 The well-known rock band DIE HAPPY signed autographs for hundreds of fans at König & Meyer's stand. König & Meyer has been supporting this band since 2005.
The band formed in 1993 and has become one of the most important female fronted rock bands. The band's singer is Marta Jandová, with Ralph Rieker on bass, Jürgen Stiehle on drums, and Thorsten Mewes on the guitar.
Their latest album, entitled Bitter to Better, went straight into the Top 10 of the Media Control Charts on its release last September. Their first single, the extremely catchy Big Big Trouble, taken from their album, was followed up with the ballad I Am, which was created in partnership with the internationally successful songwriter Diane Warren, who has also worked with Aerosmith, Alice Cooper and Bon Jovi.
---