König & Meyer has renewed the environmental audit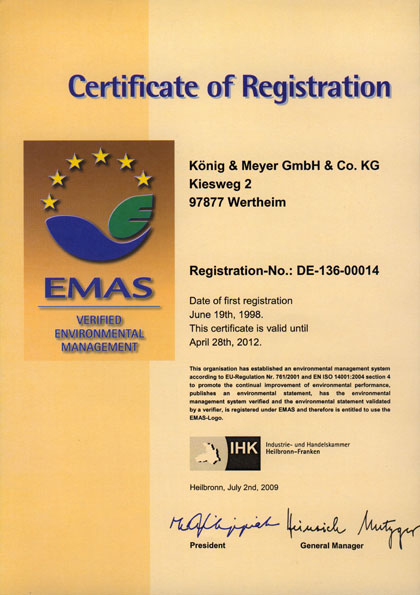 They did it again:
The world´s leading manufacture of music equipment has been validated in accordance with the EU environmental audit and the certification in accordance with the ISO 14001, which is recognised worldwide.
So König & Meyer continues consequently the effort to protect the environment. The environmental protection has become important very early and already in the 70s crucial decisions were taken – for example the change from nitro lacquer to powder-coated stands or the installation of a modern plant for the conditioning of the sewage. Therewith it has been possible to reduce the water consumption about 90% within the last years.
In 1998 König & Meyer received the EU environmental audit as one of the earliest companies and in 2000 the certification of the worldwide recognized ISO 14001.
In December 2006 the manufacturers of music equipment received an award of approval for their achievements in the field of environmental protection from the Minister for the Environment in Baden-Württenberg
Also by this year`s accomplishments the environmental expert Raphael Artischewski has been impressed: A photovoltaic system with an output of 99.8 kWp was installed on one of the company's roofs. The plant provides electricity for about 25 households and reduces the annual CO2 emission about 70 tons.
Also the managing director Gabriela König is satisfied with the achieved results: Environmental protection aren't just words but also firmly integrated in the company's policity. We scrutinize every investment also regarding the environmental benefits and so we reduce constantly the impact of our production processes on the environment.
And also for the future the company from Wertheim schedules a lot. The strategic and ambitious environmental objectives can be found in the environmental brochure which is published on the company's website. Some examples: The insulation of the outside facade as well as the sloping badger should be renewed and the heat supply should be changed to the heating with wood pellets. There will be an energy saving of 60.000 kWh per annum and the CO2 emission will be decrease about 15 tons.
"For the future König & Meyer will be stick to one´s principles. The field of environmental protection was, is and will be an important part of our production. And each customer who decides on one of our products will always be able to rely on this," so the managing director Gabriela König finally said.
---