Website gets a facelift with an online shop for dealers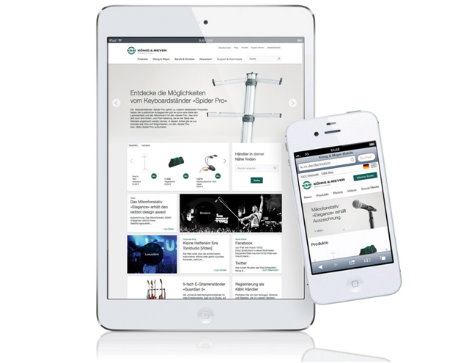 After two years up and running, we´ve given our website a new look.
The site now features the popular tile look. Live pictures of endorsers loosen up the site and give it a touch of emotional appeal. The integration of the corporate blog has been upgraded, and the latest social media postings are now part of the homepage. Test reports and awards are featured to help musicians decide on the right König & Meyer products for them. The mobile site has also been similarly freshened up.
Along with consumers, the move is meant in particular to appeal to and support dealers. Together with the facelift, the new B2B dealer shop was opened with this in mind. For some time now, registered dealers have been able to place the desired products in their shopping cart in the dealer section of the site and transmit them easily and conveniently to the musical instrument accessory producer.
Plus, as a way to promote sales, dealers can now print product tags; brick-and-mortar dealers, for example, can use these to label K&M products in-store. The tags contain product information, a space for pricing, and a QR code that links to the mobile version of the König & Meyer website.
Says CEO Gabriela König: "In recent years, our website has increasingly come to form the center of our marketing activities. That means it is all the more important to develop and improve the site on an ongoing basis so that we can offer dealers, consumers, and members of the media added value and new and current content at all times."
---