Your new mic stand, in 5 steps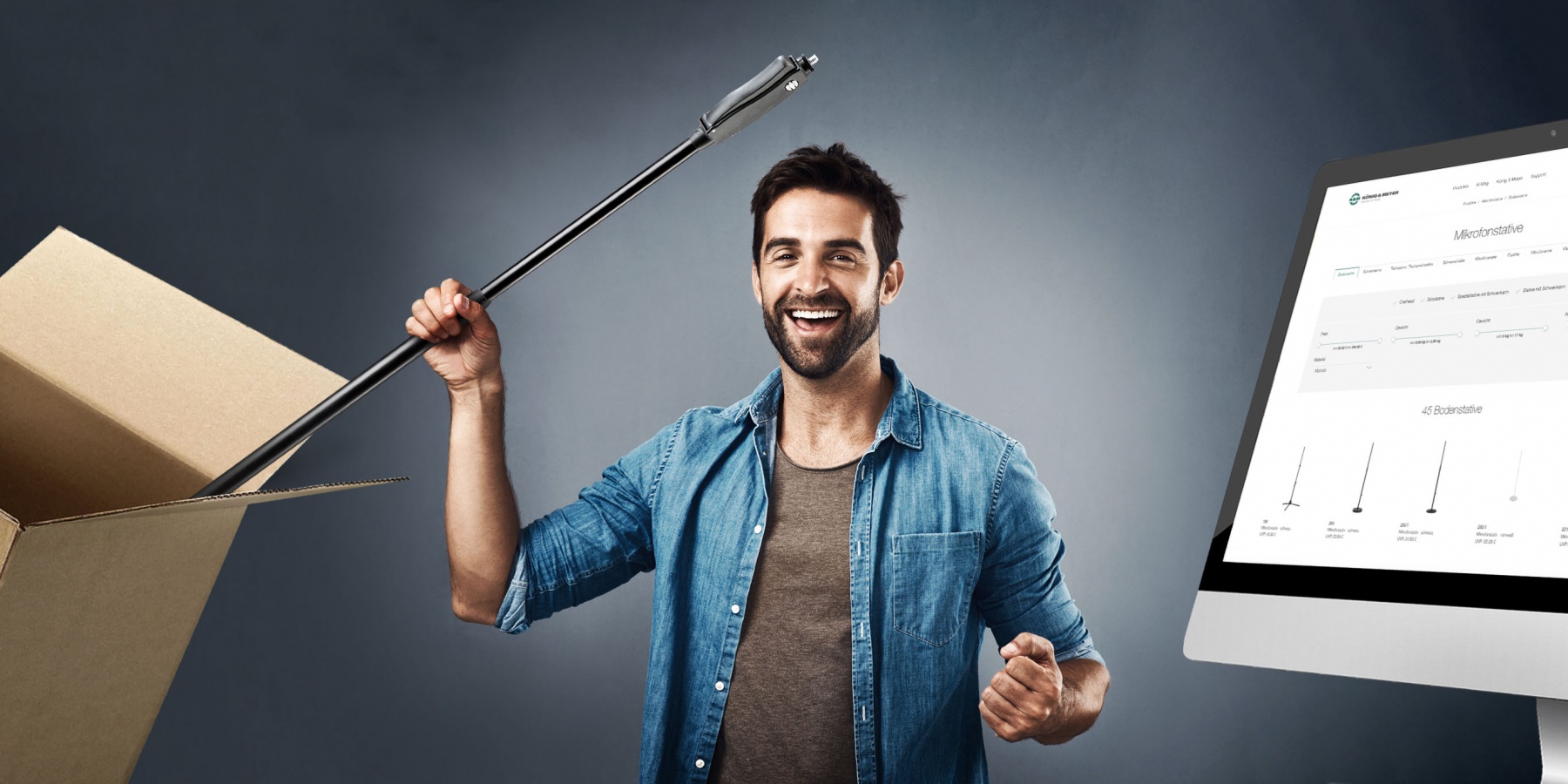 Freedom of choice is freedom indeed! But when there are too many choices, it's easy to get overwhelmed. Regular people might throw up their hands and say, "decisions, decisions…" while researchers point to what they call the "paradox of choice." Here's a step-by-step guide to finding your new mic stand and having an easier time choosing in the future.
This guide is a quick, systematic way to find a new mic stand. Ready? Open our website at www.k-m.de/en and go to the "Products" tab. Then choose the Mic stands section from the drop-down menu. Now you're just five short steps away:
1 Clarify how you plan to use your mic stand
If you're recording a podcast or for business purposes, a table stand may well be the right choice. In the music business, it gets a little more complicated. Before you buy, you need to have a long-term view of where you might use the mic stand. In the rehearsal room, onstage, in the studio? These three locations alone involve different space constraints, so different base configurations are possible. Will a round base give me more freedom to move, or will my pedal board fit in between if the stand has folding legs? As a general rule, different uses require different features and possibilities for mic stands. That's exactly why we have so many different products in our range.
2 Define your requirements for the mic stand
The second step is to define the requirements you have for your new mic stand as the user. We've listed a couple of sample fields of application and questions here:
Amp removal: What is the height of the amp? How far does the boom need to extend as a result?
Microphoning acoustic guitars: Will the guitar be played from a seated or standing position? Might a half-height stand be the solution in itself?
Stands for vocal music: Is easy height adjustment an important factor for me? Might one-handed adjustment be an option there?
Choral music / percussion recording: What is the height of the directional microphones? Should I tend toward a mic stand with longer legs at the base to eliminate the risk of tipping?
3 Filter models according to characteristics
Once you have defined the basic requirements for the new mic stand, you can narrow down the selection. Our website lets you filter the list according to various criteria. This function displays only the products that match your requirements. You can filter the mic stands by price range or weight (a key requirement for mic stands that move around a lot) or color, for example. You will soon see that narrowing down your selection is the quickest way to reach your goal.
4 Select and compare products
Now you can familiarize yourself with the specs and features of various models on your own by visiting the individual product pages. The structure and the information displayed are consistent on all product pages, giving you a quick overview. To compare different models, we recommend the comparison function. To do this, just click the "Compare" button on any product page. You can add and remove various mic stands to compare them with each other.
5 Find a dealer and place your order
Found your new mic stand? Awesome! If you're not quite sure where to order your model, we're happy to refer you to a trusted dealer. Most of these dealers offer an online shop or pick-up option, especially these days. They'll definitely be glad to have you visit digitally!
Still can't decide? On the fence about two products? No problem. We're here to help!
What are your tips for when you go looking for new equipment? Do you go with your gut, or seek out the opinions and experiences of other musicians? Tell us in the comments!
---