Gifts that will make you look like a hero this Christmas
News 16.12.2020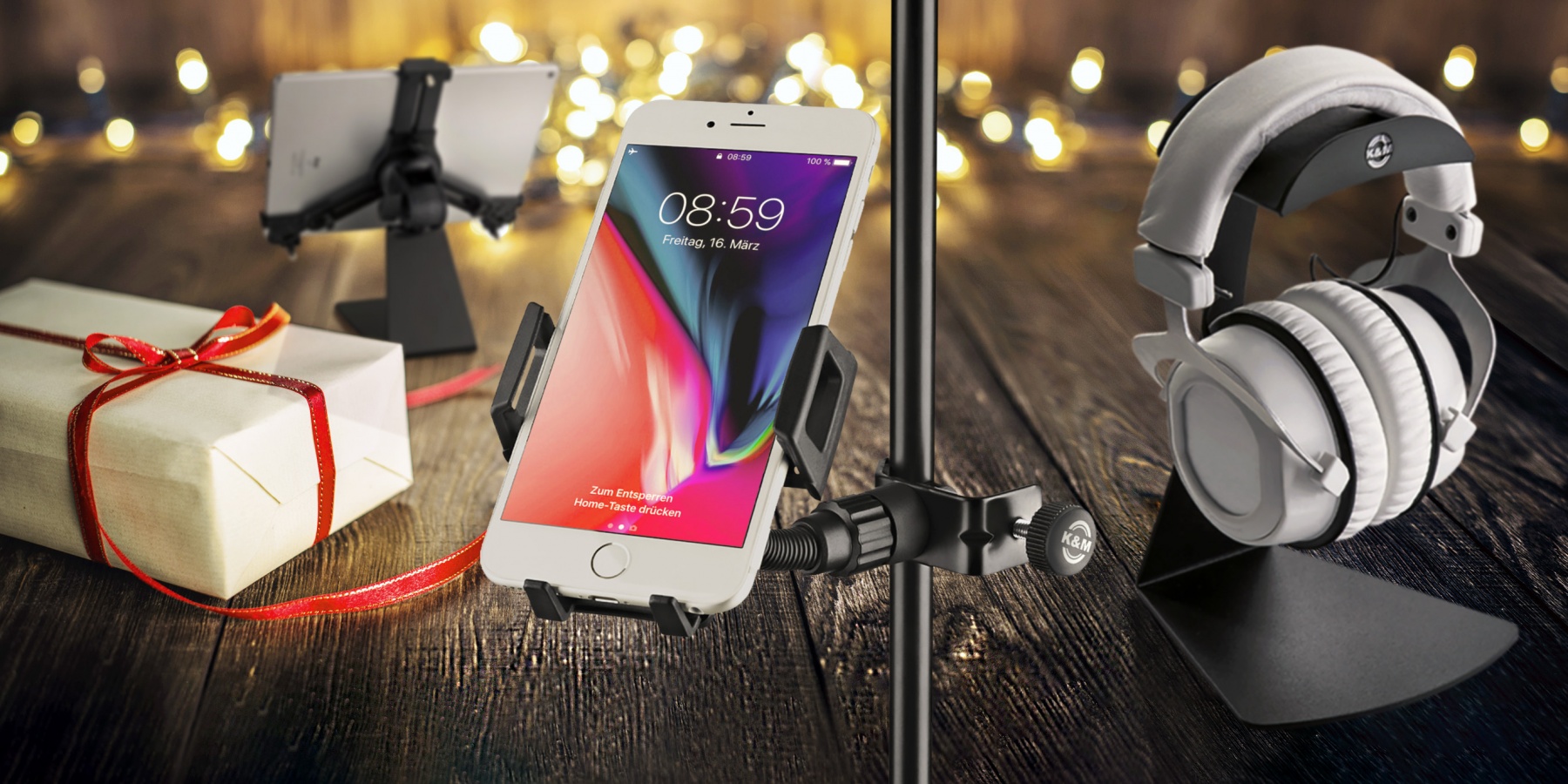 It may sound more surprising than it actually is: Christmas is right around the corner. For a long time it was hard to imagine that this turbulent year would come to an end. We will probably not have fond memories of 2020. However, dream researchers have found that when people wake up, they can only remember their last dream—if they can remember any at all. Perhaps this can be applied to 2020 and a nice Christmas will have a positive effect on our year-end evaluation. Of course, giving Christmas gifts is also part of a great Christmas. We have listed a few suggestions here. Have fun reading them!
Tablet PC Stand
English vocabulary that we refer to as buzz words gets absorbed into our vocabulary when German words just can't express the current situation in the current lingo: Home schooling, social distancing, flattening the curve.
Of course, they sound extremely important, but at the same time you run the risk of being misunderstood. Which is why "social distancing" in English was quickly renamed "physical distancing" in German because keeping in touch was and is more important at this time than ever before.
At Christmas, we will have to limit physical contact with others as much as we can. Digital contact is still the order of the day—FaceTime, Skype, etc. are there to maintain social contact. Take a look at our tablet PC table stand and you won't have to hold on to your tablet all the time. The tablet PC table stand can accommodate tablets 222 to 334 mm high and 128 to 232 mm wide. The stand can hold tablet PCs in either the portrait or landscape position. You can place this tablet stand anywhere, making it feel like you can be in the same room with someone who can't actually be there with you. No matter whether you are eating together, unwrapping gifts or sharing a cozy glass of red wine on the couch.
LED Piano light
There are almost as many myths about the historical background of the Christmas tree as there are fairy lights wound through it. Research shows that the customs, background and symbolism started to change during the Middle Ages. The Christmas tree has also become an established piece of furniture in people's homes during the Christmas season. Fairy lights, ornaments, etc. create a festive atmosphere by turning an ordinary evergreen into a Christmas tree. The right light is crucial to make this happen – which also applies to the music you play:
The LED piano light casts light on your sheet music in an elegant and stylish way. It comes with 12 LED lamps and features an impressive light intensity of 2500 lux. It is available in gold, black and silver.
»Elegance« microphone stand
Home workouts made us fit, yoga live streams keep us more balanced and the Corona Kitchen keeps us healthier and more resilient. With these characteristics, all the stress and hectic rushing around in the weeks before Christmas can no longer harm us, right? Immutable external factors, however, often put us—and our hobbies—to the test: Inexplicable sound problems, a crackling sound that cannot be located, a lost screw on the microphone stand. It can therefore only be an advantage to invest in functional and reliable equipment. The "Elegance" microphone stand combines aesthetics with functionality and is the perfect partner for your performance. The one-hand system lets you easily and conveniently adjust the tripod height. It is made of resilient material and the base ensures stability. This microphone stand looks good, too, since it only weighs 3 kg. It seems as if the microphone stand also recently went through the coronavirus boot camp.
Smartphone holder
The smartphone is our constant companion. In your pocket, it follows you every step of the way—tracks, stores and even analyzes each of these movements. Distraction usually helps a person get away from their cell phone. So grab a guitar to play instead of holding your smartphone; run your fingers over piano keys instead of your touchscreen, and try pounding away on some real drums instead of swiping. The smartphone holder is perfect for anyone who has saved their sheet music or notes on their smartphone or who wants to video Christmas songs and share them with the world.
It is the ideal alternative to tablet holders and can hold devices from 44 mm to 84 mm wide. The clamp bracket allows the smartphone holder to be fixed to any pipe that has a maximum diameter of 30 mm.
Headphone table stand
Multimedia equipment again tops most people's Christmas wish list. The Sony Playstation 5 was released in Germany at the end of November, just in time for the Christmas rush. In addition to the console and games, matching accessories can take your gaming experience to another level. Make arrangements to get together, make your next move or celebrate together: Integrated groups, or "parties," and voice chats allow all of this. You need a headset that provides great sound to do that. Since consoles are increasingly looking sleeker and more designed, the equipment has to look just as good. Stow your headset or headphones away efficiently in the elegant table-top headphone stand, which looks great on its own. It's the perfect Christmas present for every gamer.
If you look, you will find—even more Christmas gifts
We hope you discovered a product for yourself in this blog article. If not, we recommend you take a look at our article from last year. You can find it here. This article describes how Christmas also influences König & Meyer's business practices. We wish you a Merry Christmas. Take care and stay well.
---