Itchy Poopzkid: New album "Lights out London"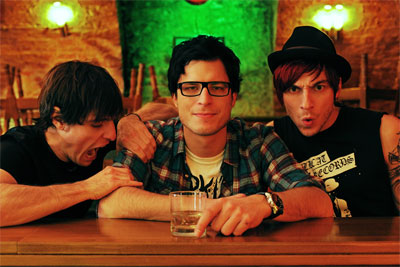 2011 – A new year, new album, new tour, new drummer, own label!
"Lights out London" is the name of the new album! Itchy Poopzkid present themselves with the energy and passion as usual! After a 10 years band story they got more power than ever before!
Their new album has been live-recorded and produced under their own label "Findaway Records". This 4th studio album will be released on 25 February.
Hardly any other band has toured, worked, sweated as much as this punk rock-band. And of course they've thrilled their audience and fans! So the 12 new songs will make you feel their joy of playing and will establish the Itchy Poopzkid to the top of the rock-scene.
It's the most rocking album of the band and also very intensive. They've written hits as well as lyrics of profundity and cynicism.
After more than 600 concerts, lots of tours, three successful albums and a nomination for the MTV-Music-Award, Sibbi, Panzer and Max (the new drummer since the beginning of 2011) are ready for new projects! The first single "Why still brother" is a song the band has written for the animal rights group WDCS. So the Itchy Poopzkid want to support the WDCS in fighting against the undersea noises caused by military and oil industry. The new song also demonstrates their musical trend and underline the following: Itchy Poopzkid were, are and will be an honest and real rock band!
The album that has been live-recorded has to be presented live. So the band will go on tour. The "Lights out London-Tour" will start at 30 March. Itchy Poopzkid will tour through a lot of European clubs and finally the band will rock lots of festivals!
Further information and detailed tour dates: www.ItchyPoopzkid.de
Click here to visit their band profile.
---