Itchy Poopzkid: 10 years – on stage & online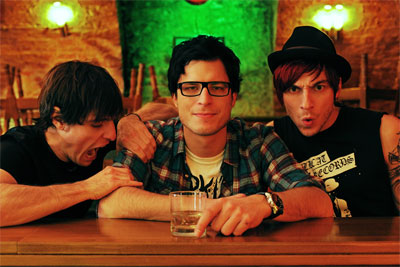 We continue our series about our endorser in the social web!
ITCHY POOPZKID – a band in business for 10 years now. 10 years of experiences, over 600 concerts, four successful albums, a MTV Music Award nomination and so on. Their latest and hardest rocking album "Lights out London" has again demonstrated that they are one of Germany's most successful punk rock bands. You can not only find Sibbi, Max and Panzer on international stages but also in the World Wide Web! They have a website and sites on Facebook, YouTube, Twitter and MySpace. The band says, that it all has started with their own homepages and then it has expanded: first MySpace and then the other platforms. But now the most activity is on Facebook because unfortunately MySpace has burned out.
But their band website www.itchypoopzkid.com is still their most important part! It´s the online-site to represent the band. There you can find also the most and newest information, for example reports about each concert or gig.
All content comes from the band itself and is always known by all band members. And it´s the band itself which is responsible for the support service and mentoring of the channels – every day! The technical questions are solved by their webmaster.
Especially the following features represent their social media activities:
To have direct contact to the fans as well as fun with communication and interaction. So the band likes to do prize drawings, quizzes or competitions via social media.
To share information and news fast and straightforward, including the promotion of new albums or a tour. Moreover video clips can be published easily.
To place advertising and enlarge popularity
Fans of the band can comment the post of the ITCHY POOPZKID but they can´t post something directly on their pin wall. Nevertheless these comments and other shares are important to the musicians. And so they also try to answer questions and to realize ideas or suggestions often posted.
Finally we want to say: thanks ITCHY POOPZKID!!
You want more ITCHY POOPZKID? Then we direct you to our website where the band has an own site! There you find more information and of course all feeds of their social media channels!
---