Your Christmas gift – Made by König & Meyer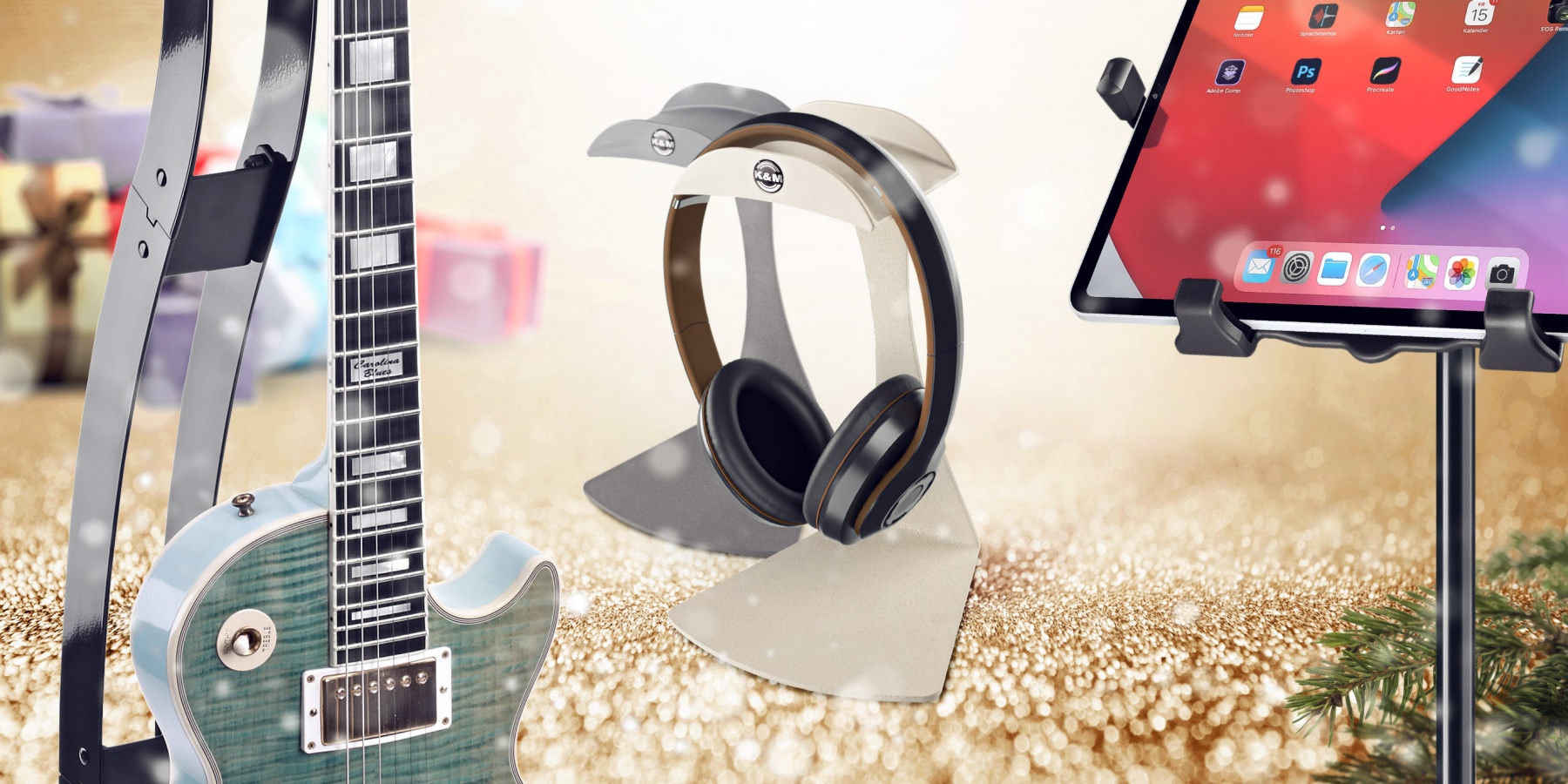 Still looking for the perfect Christmas gift to treat someone else – or yourself? We dug around in our product range a bit to help you find just the right Christmas gift. Happy reading!
16075 Headphone table stand
From hi-fi headphones to gaming headsets and studio headphones, the 16075 headphone table stand is perfect for all of them. Featuring elegant design and clean workmanship combined with superior materials, this stand is the perfect way to present your headphones from every angle. Plus, the holder's convenient height makes this headphone table stand more than just a storage solution. It's also a thoughtfully designed accessory to keep your headphones within reach at all times.
As of this year, the headphone table stand now comes in the black standard finish and in sand beige and gray.
19775 Tablet PC stand "Biobased"
At König & Meyer, we added a pop of color in 2021. With this product, we mean that more figuratively than literally. Our "Biobased" label launched in March, featuring the first products whose plastic components are made from 50% renewable raw materials. So our logo isn't the only thing about us that's green!
This flexible, adjustable Tablet PC stand can accommodate tablets ranging in size from 10" to 16". Once in place, the tablet can be used in portrait and landscape position.
Will the holder fit my tablet? Click here for answers.
17630 / 17640 Guitar Station M
Unlike a wrapped CD or an envelope containing concert tickets, it's fairly easy to guess what's underneath the wrapping paper with this item. The Guitar Station M is the elegant alternative to traditional guitar stands. It is an especially good option for stylishly presenting your guitar at home. The self-clamping mounting bracket offers security, accommodating guitar heads with various designs. Alongside the standard M version, the Guitar Station is also available in size L for larger guitars, especially longer ones.
16027 Drink holder "Biobased"
Performing at a Christmas market is always a very special occasion due to the mood, but it can also be a challenge. One major issue? Cold fingers. Guitarists, pianists, and percussionists can tell you all about it. When your hands are cold, it is nigh impossible to play. The 16027 drink holder, also made from sustainable plastic, offers a secure hold for mulled wine and hot punch and keeps beverages from spilling.
Pro tip from musicians: Between songs, wrap your hands around a warm mug so you're ready for your next solo!
Do you have a special tip to share for keeping your fingers warm at a Christmas market?
26773 Table monitor stand "Z-Stand"
Just like the letter Z in the alphabet, our fifth Christmas gift selection comes last, but not least. The table monitor stand set "Z-Stand", available in three different colors, has striking visual appeal, but that's not all. It also decouples the speakers acoustically. Each stand elevates your monitor by 21.4 cm for a pleasant listening position. Want more flexibility with your new monitor stands? No problem! The 26772 and 26774 monitor stands are easily adjustable to your preferred height.
Still haven't found the perfect gift? Check out our gift tips from previous years! And make shure that you follow us on Instagram!
We wish you a very merry Christmas and an excellent start to 2022!
---