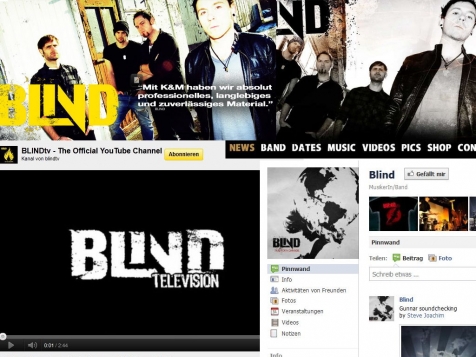 But the band Blind is definitly not blind! They know that social media makes it easier to  communicate and it opens new doors. Their first social media channel was MySpace. Then they launched their YouTube channel which they have been using to stream their videoclips. Finally in 2009 they have started using Twitter and Facebook.
'MySpace is nearly dead' – comments like that one from Blind we have already heard from other bands! Consequently Blind isn´t that active on MySpace as they were in the past. About Facebook and Twitter they say that their own private profiles are more interesting than the band-pages. Facebook and then Twitter are their most important external platforms in the social web.
But number one is still their own website. Each shared content on Facebook & Co. links to the band-website. It is their main tool, because there are often changes in the social media and maybe some day also Facebook will be replaced by another attractive platform! Whereas the website will be still a constant part. Fabian, the guitarist of the band, cares for it. And also the other band members are in charge of the online-profiles. Gunnar, the band-drummer is responsible for Youtube, since he is also the one who produces their video clips. Singer Steve looks for the residual channels, because he is the one who communicate with the fans most of the time.
For all that work they spend about 14 hours each week. But they like doing it, as they have a lot of fun to be in contact with their fans.
They say that regular messages and news help to be always up to date and to stay close to the fans.
Also the band considers that is important to provide the fans a community to communicate with each other. Additionally Blind gave us some more advantages of social media:
• The easy way to stream the videos
• The fast transmission and sharing of information and news
• Control and influence on their image and their popularity
We thank the band for their interesting answers and views which gave us the chance to write this report for our serial 'Our endorser in the social web'.
You want to read more?
Our endorser in the social web – the Donots
Broilers – our new endorser talked about Facebook & Co.
Itchy Poopzkid – 10 years on stage and online
---